Heading back to school can be an exciting, yet anxious time for parents and little ones alike. Books are the best way to get us prepared! They teach beautiful lessons and open the communication gates so that your tiny friend has a chance to ask questions and share feelings. Here are my top 5 favorites for this school year.
The Pout-Pout Fish Goes to School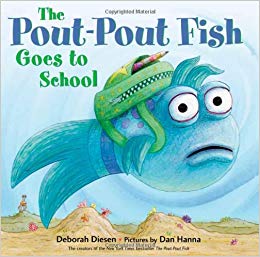 This book truly gives me all the feels! Our little pout-pout fish is feeling nervous about his first day of school and is sure that he doesn't have the know-how to get through the day. After heading into a few wrong classrooms, our brave pout-pout fish finally ends up with the "brand new fish" and learns some brilliant facts! His new teacher tells the class: "fact 1: your are smart, fact 2: you can get it, fact 3: you belong, so 4: don't forget it!". I just love this mantra so very much! And just like the other pout-pout series books, the singsong pattern will have your child immediately enthralled.