Key Points:
1. Create opportunities for interaction with your child by placing desired items out of their reach, encouraging identification of everyday objects, and engaging them in activities that require interaction and communication.
2. Use playtime to build language skills by getting down to your child's level, narrating pretend play, incorporating directions into play, and encouraging imitation of actions, sounds, and words at an appropriate pace for their developmental stage.
Here are Molly's "The Speech Teacher" top tips for helping your little one improve their speech and language skills. You can find these suggestions and much more in her new parent guide: The Speech Teacher's Handbook. It was created in order to provide you with fun and practical ideas that are easy to incorporate into your daily routine. Get it here.
I Spy, You Spy
Always start by checking in on your child's environment. If they can easily access their favorite toys and everyday items without your help, then they won't feel the need to interact with you. Start slow and place one or two items on a higher shelf or in a clear container that your little one will need help opening. The idea is that your child can see the wanted item, but will need your help in order to get it. That way you are providing more opportunities for interaction. You also want to know whether or not your child is able to identify everyday items. We often focus on our kids' ability to label items and forget that the identification part comes first. These skills are needed when you ask your child to find a certain object in the room, touch a specific picture on the page, or point to a particular body part.
Play Like You Mean It
Children are highly motivated and attentive during play, making it the perfect time to build language. Get down on the floor so that you are on your child's level and talk through the pretend world that they created. You can narrate the scenes with simple phrases, add dialogue or corresponding sound effects, and expand on their expressions. Play is also a great time to practice following directions. I love songs with built-in directions, such as We Are the Dinosaurs by Laurie Berkner or We're Going on a Bear Hunt by Michael Rosen. You can also engage in simple games such as Simon Says or create mini obstacle courses with furniture pieces. The more motivated your child is, the more likely they will be to listen and follow directions.
The Hierarchy of Imitation
Imitation is a powerful skill! Teaching imitation is easier when we go through the hierarchy of skills. Actions come first (arms up, touch nose, shake hands, etc.) Once your little one is consistently able to imitate simple actions, move to sounds. Silly, nonsensical sounds are usually imitated quickly because they are the most fun! Then, you can move to animal sounds (meow, woof), environmental sounds (beep beep, choo choo), and exclamations (uh oh, wow). After sounds, you can move to words. It's best to start with simple one-word models and build up from there. It's important to go slow and make sure that your little one is consistent before you move to the next step. I always say: the slower we go, the faster we will see progress!
Up The Ante
Little ones are very good at pointing at wanted items in order to request them. We often give in to these requests. However, by doing so, we reinforce that pointing is a sufficient way to get something. If you want your child to start using words or sounds, then you'll want to model this behavior and encourage them to imitate you. When your little one tries to imitate you –even if it doesn't sound right–, give in. The more praise you provide for their efforts, the more likely they will be to continue trying to pronounce the words. Gentle withholding is a great way to practice! Simply hold onto an item that your child wants until they do something new in order to get it. This technique works best with special treats or during play. That is, don't push the toy car until your little one completes the phrase 'ready, set…' with a big "GO!".
Slow & Steady
As much as we wish it were true, children do not learn language overnight. Baby steps are key to language acquisition. You know your child best, so trust your instincts in order to know when to take the next step. It's important to note that there will be times in your child's development when language might lag. That's because your little one learns to move and to talk at the same time, and that creates a seesaw effect. While they are focusing on one developmental area, the other is sure to take a backseat. Your little one may babble less when they are learning to crawl, or jabber the day away while sitting on their bottom. First words and first steps follow the same pattern.
---
Learn more about our Guest Writer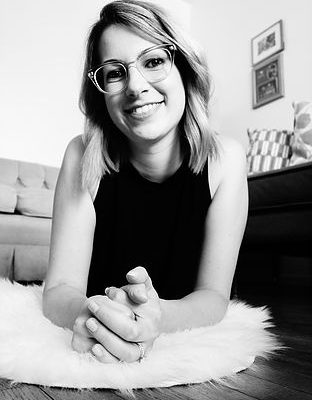 Molly Dresner is a Speech Language Pathologist and Feeding Therapist based in New York City. She is ASHA (American Speech and Hearing Association) Certified and trained in the SOS (Sequential Oral Sensory) Approach to Feeding. She received her Masters in Speech Language Pathology from Teacher's College, Columbia University, and her Bachelors in Speech and Hearing Science from George Washington University. She currently works with the birth-5 population conducting evaluations & providing speech and feeding therapy in NYC. To read more about Molly and check out her blog click here.