Key points:
Setting up expectations can help make the transition back to school stress-free for children.
Using positive language and "get to" statements can help make school feel like a fun and exciting place for kids.
Reading back to school books can help children understand school expectations and ease the tension of the transition.
Transition objects, such as a stuffed animal, can provide comfort and familiarity for children on their first few days of school.
Retail therapy, such as shopping for new school supplies or clothes, can be a fun and bonding experience for parents and children.
1. Set up expectations
We want the 'back to school' feeling to be joyful and stress-free! The best way to get our little friends ready is to set up expectations. That means chatting about what that first day is going to look like, who will be in their class, and what fun new activities they will get to try. We want to give a good amount of information, without overwhelming them. You know your child best, maybe they would benefit from a small daily amount of info during the last month of vacations or maybe it is best to wait until the week before—trust your instincts on that one! The most important thing to remember is to use positive language to set them up for success!
2. Get excited
"Get to" language is not just for adults! Kids greatly benefit as well. Whenever you can pepper it in, use "get to" statements throughout the school break. For example, "at school, you will get to see Miles every day!", "At school you get to play on the playground!", "At school you get to help with the class fish!". We want to set it up so that school feels like a wonderful place with a lot of fun opportunities that your child will get to experience.
3. Books help
There are tons of awesome back to school books that help to set the stage for our tiny friends. These books help foster ideas to chat about and prepare kids for school expectations. All of these books provide an awesome jumping off point for your child to ask questions and share their feelings about going back to school. There are some that explain school rules, others that help with social dynamics, and so many that help ease the tension of a big transition! See my post here for some examples.
4. Use transition objects
Transition objects are small, easy to carry items from home that ease the tension during a big change. Chat with your child's teacher ahead of time to see if it is okay to temporarily use a transition object for a few days. Some easy items include but are not limited to a small stuffed animal, mommy's bead bracelet, or a lovie. The idea behind the transition object is that your child has a little piece of home to make them feel more comfortable on those first few school days. You'll want to prep your little one for using the object as well. That is, you want to explain why they are bringing it, how long they can bring it to school, and any rules that go along with it (i.e. it stays in the backpack during lunch, etc.)
5. Retail therapy works
Everyone loves to shop! You can set aside special time with your little one to shop for new school supplies and/or outfits. This way you are creating time to be together, chat about school, get excited, and prepare yourselves. You can describe to them why you are buying these items in order to get their little brain buzzing about all of the exciting, new things they will experience at school!
---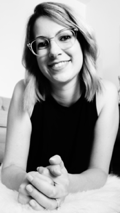 Molly Dresner is a Speech Language Pathologist based in New York City.
She recently authored The Speech Teacher's Handbook, an engaging parent guide that includes practical and easy-to-follow tips and activities to help you help your little one!
You can find her on Instagram @thespeechteacher where she posts daily pops of knowledge and connect with her on her site as well as Facebook.