Key points:
Children need cues and pauses to do the things we ask them to do.
Music and obstacle courses are great ways to motivate children to follow directions.
Simon Says and scavenger hunts are simple and functional ways to practice directions.
There are games that were created specifically for following directions.
Since they are still very young, children need cues and pauses to do the things we ask them to do. Instead of reciting a series of instructions, go slow, be clear, and give the example so that your son or daughter can do a certain task. Take advantage of the music, rhythms, treasure hunts, and imitation games to train your toddler and help them concentrate and finish a task that has several steps.
1. Use Music
Music is a wonderful way to motivate little ones to follow directions! There are a ton of child-friendly songs that were created especially for this practice. Laurie Berkner and her band have done an amazing job at building a ton of directions into their catchy songs (e.g. We Are The Dinosaurs, etc.). I also love Usher's ABC song from Sesame Street (available on YouTube). And of course there is the classic, We Are Going on a Bear Hunt, which I love because it combines spatial concepts with the directions (e.g. under, over, etc.)

2. Get Moving
You can create an obstacle course out of pretty much anything around your house! Obstacle courses are great for younger children because they have the visual reminder for the direction . Maybe you create one with furniture in the living room: go under the chair, climb over the ottoman, slide down the couch, crawl on the carpet, etc. You can also go outside if your child needs more space to get those wiggles out while following directions: go down the deck stairs, run around the tree, crawl through the grass, etc.
3. Tag in Simon
Simon Says has been around forever because it is motivating, fun, and a great way to practice directions. The best part, you don't need any materials! You can play this game anywhere: at home, waiting in line at the store, or driving on a road trip. The younger your child is, the more you'll want to provide visuals. That is, you may need to show them what to do as you give the direction. However, after a little practice you can simply use your words.
4. Go on a Treasure Hunt
Scavenger hunts are another easy and functional way to practice directions. You can set one up with specific materials or simply use household items. I like to create a scavenger hunt using pictures of objects that are already scattered throughout the house. For example: find 3 hats, pick up 2 dinosaurs, show me 1 banana, etc. You can also sneak in some cleaning routines during this activity (e.g. pick up all the cars and put them in the box, etc.).
5. Game Time

There are some awesome games that were created specifically for following directions that I love! Some of my favorites are: Dr. Seuss I Can Do That, Learning Resources Pizza Mania, Twister, and The ThinkFun Roll & Play Game. If your child prefers structured activities, these games are your best bet!
---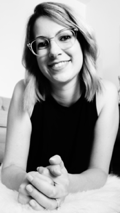 Molly Dresner is a Speech Language Pathologist based in New York City.
She recently authored The Speech Teacher's Handbook, an engaging parent guide that includes practical and easy-to-follow tips and activities to help you help your little one!
You can find her on Instagram @thespeechteacher where she posts daily pops of knowledge and connect with her on her site as well as Facebook.