Key points:
1. Use a potty chart with stickers to reinforce successful toilet use and encourage good habits.
2. Add magic by coloring toilet water to excite boys about aiming properly.
3. Create a fun path from their room to the potty to remind and motivate them to go.
4. Personalize the potty with stickers and glitter to make it exciting, and read potty-themed books to enhance learning.
Are you looking for fun ways to teach and encourage your little one to go potty? Here are a few fun activities for potty training that will help you teach your toddler how to use the bathroom in an exciting and new way!
5 activities for potty training
My potty chart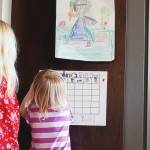 How does it work? Create a chart of the week, like a calendar. Each time your toddler uses the potty successfully let them paste a sticker on the chart. At the end of the day, their chart will (hopefully) be filled with stickers and they will see how successful they were. This simple potty training activity can help you reinforce good habits and will encourage your toddler to use the potty.
Some tips!
Be creative when making your toddler's chart! You can use some of their favorite TV or book characters to decorate it; remember that the idea is to get them engaged in the activity. You can even go together to the store to buy the stickers and the material to decorate the chart. Don't forget to place it where your toddler can see it, so they're motivated to use the potty every time they see the chart.
 It's magic!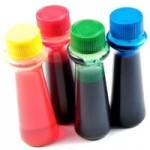 How does it work? This activity is really helpful to teach boys how to go pee-pee. First dye the toilet water with red or blue food coloring. Then, when your boy goes peeing, he will see that the water changes to orange or green. This fun potty training activity will motivate your boy to learn how to aim!
Some tips!
When dyeing the toilet water, make sure you use colors that you know will change of color when your toddler uses the bathroom. Red and blue works perfectly!
The road to potty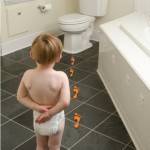 How does it work? Design a fun path that takes your toddler from their room to the potty or the bathroom. Every time your little one feels like going, they will see the path and remember to go potty!
Some tips!
Creating a fun path is key! You can try putting footsteps on the floor so that they can follow them or decorate the path with their favorite TV or book characters. Try making the path out of bright colors so that at night they can also follow it.
Pimp my potty!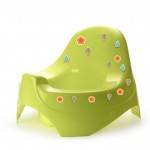 How does it work? Personalize your toddler's potty with fun stickers and glitter. This can be a fun activity before starting potty training. From day one, your toddler will love their potty and will be very excited to train!
Some tips!
Personalization is key when decorating the potty! Try using their favorite things to decorate it like stickers from their favorite TV or book characters, colors, or you can even write their name on it.
Read all about it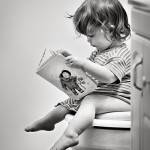 How does it work? Books can motivate your toddler to start potty training. So it's good to read books like Toilet Learning by Alison Mack or Once Upon a Potty by Alona Frankel to help your child understand the process. Using books can make the process of potty training go much smoother, plus it's more entertaining for them!
Some tips!
Make a trip to the bookstore and have your little one pick out new books, but let them read the special potty books only when going to the bathroom. You can even make a little shelf in the bathroom for these special books!
Learning to go potty takes time and patience but with these activities for potty training the transition may be easier for your little one. However, it's a process that can't be rushed.
If you want to know more about this topic check out these articles: