Key points:
Siblings of children with special needs may be overlooked due to the focus on therapy and appointments.
Special attention can be given through packing for them, making pit stops, creating one on one time, and practicing gratitude.
It is important for siblings to have a healthy outlet to express their emotions.
Molly Dresner is a Speech Language Pathologist and author of The Speech Teacher's Handbook explains some tips regarding this topic.
When there is a child with special needs in the family, siblings may literally have to take the backseat –to lots of therapy and/or doctor appointments! Today we are chatting about some quick and easy ways to help those incredible brothers and sisters feel special 🙂
1. Pack for them
Waiting rooms are rarely fun, especially for kids. When siblings have to tag along to appointments, make sure to pack special items for them. Maybe they get their 15 minutes of screen time while they wait, or perhaps they get to color with the magic markers that are not allowed on the carpet at home; either way, make sure it feels exciting for them!
2. Make a pit stop
If one of your kids is in therapy and you are able to leave while they are in session, take your other little one for a special little adventure! A quick stop for ice cream always feels good. If you have to remain in the waiting room, then try to make a pit stop on the way home.
3. Create one on one time
There is nothing like one on one time with a parent! With busy schedules and multiple little ones in the house, we often have to pencil in those special dates. Try to do a weekly or monthly date. That time is precious and it will allow your tiny friend to feel how much you love spending time with them!
4. Practice gratitude
Siblings of children with special needs are often incredibly empathetic, patient, responsible, and kind-hearted. They grow up with a vast amount of understanding. Try to make it a practice to tell your little one how grateful you are for them! Not only are you making them feel good, but you are also teaching them to make a practice of expressing gratitude, which is a lifelong skill.
5. Make time for bursts
Every child has bursts! Siblings of children with special needs often benefit from permission to let their feelings out. It is okay for them to feel like things are not fair, to be a little selfish sometimes, and of course to let all of their big feelings out. It is necessary to help them express their emotions in a healthy way so that they don't bottle them up. You could write them out together, draw a picture demonstrating them, throw pillows or bean bags, and so on –you know your child best!
---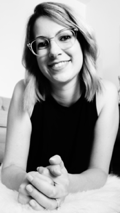 Molly Dresner is a Speech Language Pathologist based in New York City.
She recently authored The Speech Teacher's Handbook, an engaging parent guide that includes practical and easy-to-follow tips and activities to help you help your little one!
You can find her on Instagram @thespeechteacher where she posts daily pops of knowledge and connect with her on her site as well as Facebook.