Let's talk about some easy ways to give your kids resolutions this year. Maybe you want to help them work on sharing, sleeping in their own bed, or trying new foods; either way, let's set them up for success!
1. Less is more
Depending on your little one's level, you can make as little as 1 or as many as 3 resolutions. We want our tiny friends to be very aware of what the new expectations are so that they know what they are working toward. Visuals are the best way to ensure everyone is familiar with the new rules. I like to use Melissa & Doug's Responsibility Chart but you can also make your own to make it simpler. Also, if the new goal is something that your child should be doing in different environments (home, school, etc.) make sure that there is a visual in every setting.
2. Be a consistent cheerleader!
You are in charge of the encouragement to keep this train of change rolling. Positive praise works wonders! Just make sure to give specific compliments ("That was awesome sharing!", "I'm so proud of you for napping in your big kid bed!", "Way to try a brand new food!"). We all slip up on our resolutions; children are no exception. So if you see the bad habit you're trying to change, just give a gentle reminder, refer to the visual, and praise their efforts. Particularly for children who are 5 and under, we want to reinforce the positive behaviors; instead of saying "no yelling", say "use an inside voice". That way, when you see your child using an inside voice, you can praise them using the same language.
3. Just keep swimming…
Staying consistent is the name of the game with resolutions. And it is also the hardest part for all of us. It can feel daunting to remain consistent all day everyday, particularly when it comes to behavior management. But if we set attainable goals and build in extra support, we will see big changes quickly. It's a team effort so call in siblings, friends, and other family members who can help remind and reinforce the wonderful new habits!

Good luck and Happy New Year!
---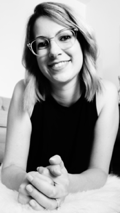 Molly Dresner is a Speech Language Pathologist based in New York City.
She recently authored The Speech Teacher's Handbook, an engaging parent guide that includes practical and easy-to-follow tips and activities to help you help your little one!
You can find her on Instagram @thespeechteacher where she posts daily pops of knowledge and connect with her on her site as well as Facebook.