What is Kinedu Educators?
Kinedu Educators is a planning tool for educators, aimed at boosting your students' academic development, both at school and at home, through:
An adaptable curriculum that allows you to plan weekly activities in seconds, and modify them to suit your students' abilities and interests. 
A catalog with more than 2,000 educational resources created by experts for each age and stage. You'll always have new options and ideas!
Tools to coordinate with parents and families, that will allow you to share activities, messages, and events.
Tools to share your students' progress with their family, so you can work as a team.
Simple and efficient evaluations that will allow you to follow the progress of each student through different developmental milestones.
Adherence to local and state norms in each Kinedu activity. 
How does it work?
Kinedu uses artificial intelligence to create personalized plans for each classroom according to the progress and development of the students.

The progress of each student is measured through many developmental milestones, which are based on the four key areas of development: physical, cognitive, linguistic, and social and emotional. 

Taking these milestones into account, our algorithm creates plans that adapt to the developmental levels of each of your students. These plans are made using activities that will help them develop in each area in a comprehensive and integral way.  
To read more about our model, you can read this article: 
Accessing Kinedu Educators
Accepting your school's invitation 
Check your inbox for an email from "Kinedu Classrooms Team" with an invitation from your school.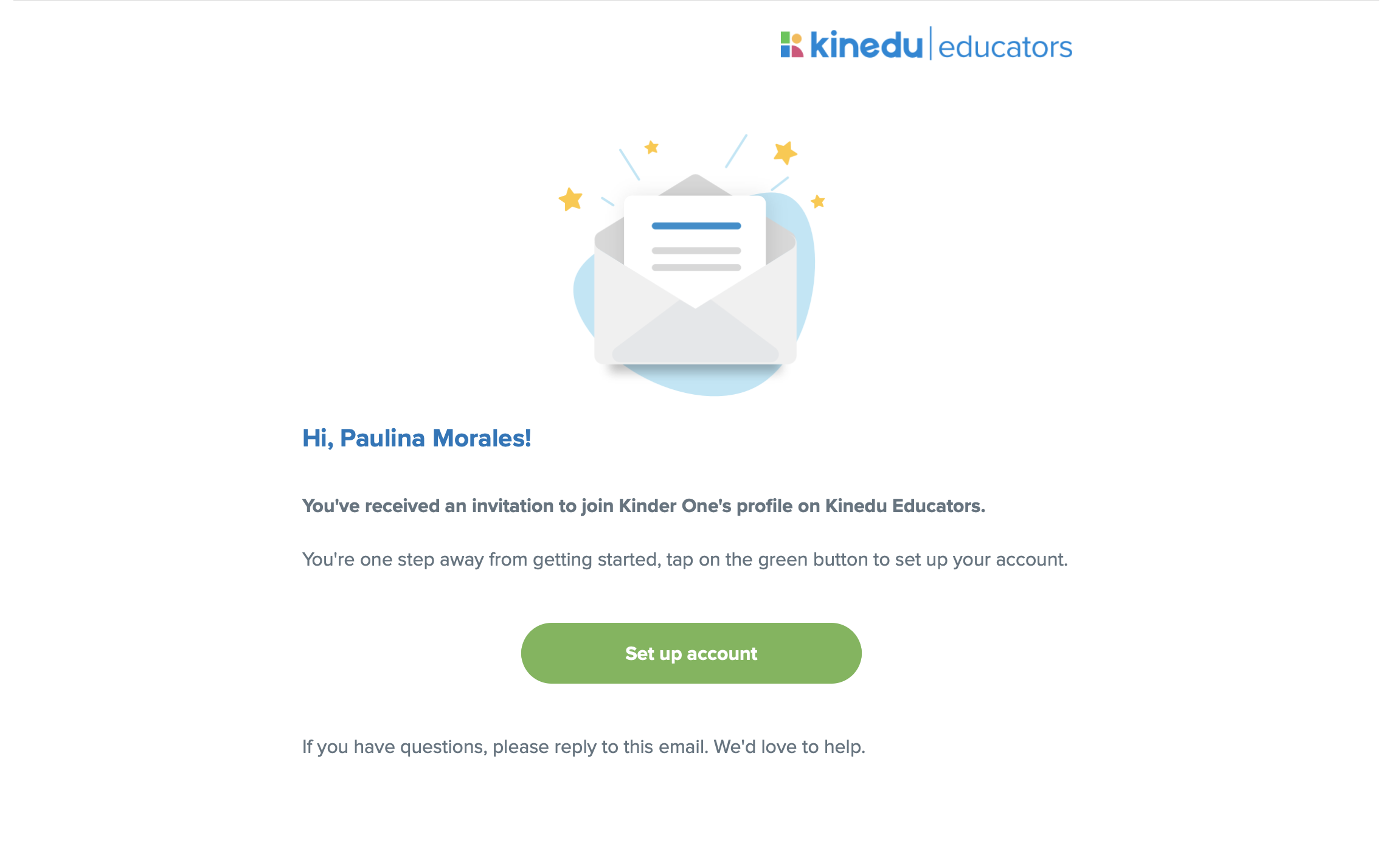 Click on "Create an account" and you'll be redirected to Kinedu Educators.
What should I do if I can't find the invitation from my school?
Check that you're using the same email you gave your school.
Look for the invitation in your Spam folder.

If you find the email there, make sure you add Kinedu as a safe contact. 
If you can't find the invitation after following these steps, write to us at hello.classrooms@kinedu.com. We'll be glad to help out!

Create your profile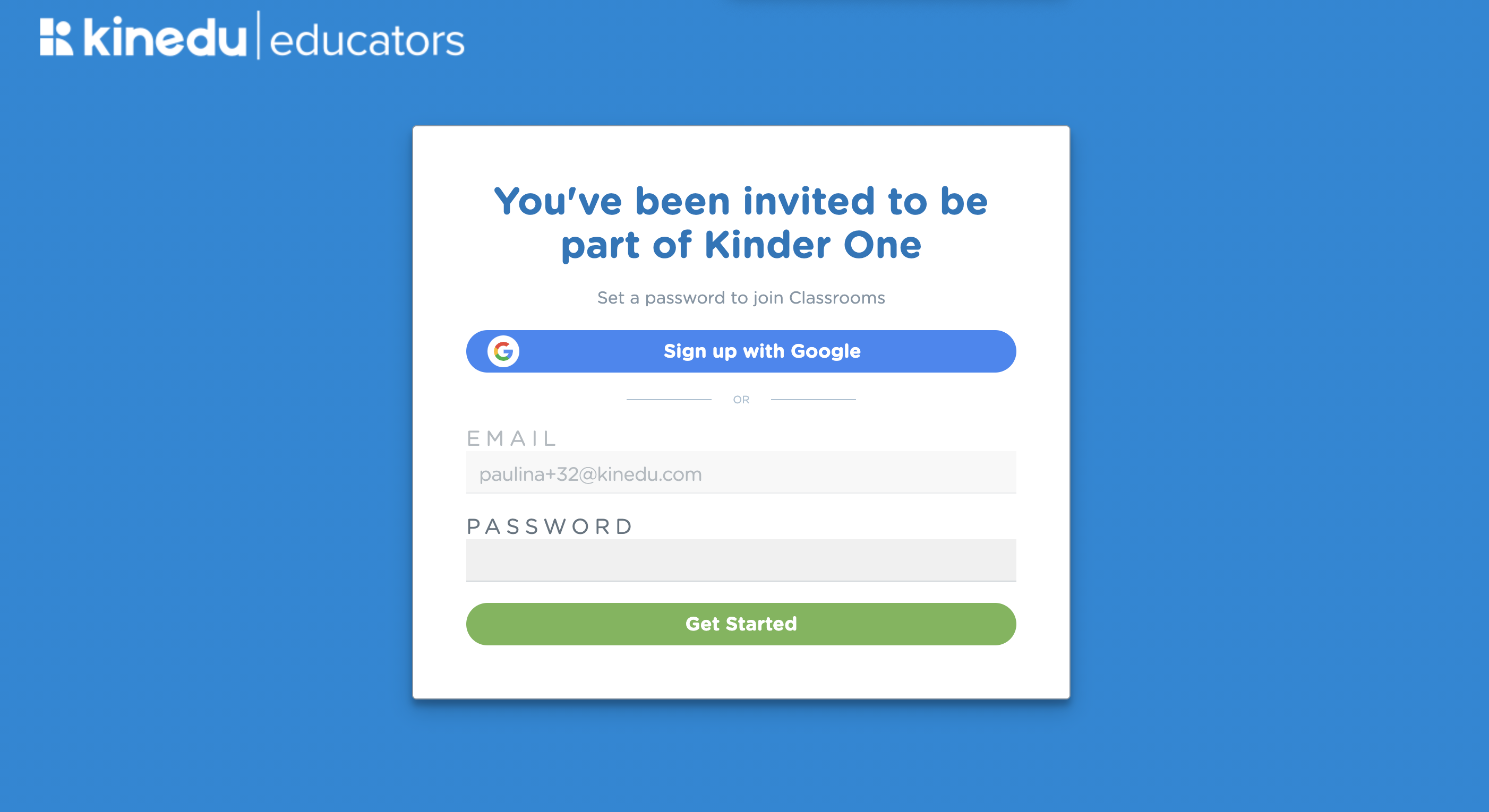 Once you are on the Kinedu Educators page you only need to create a password, and you'll be good to go! You will be able to access your school's page. Make sure to enter your password on this page.

Your user and profile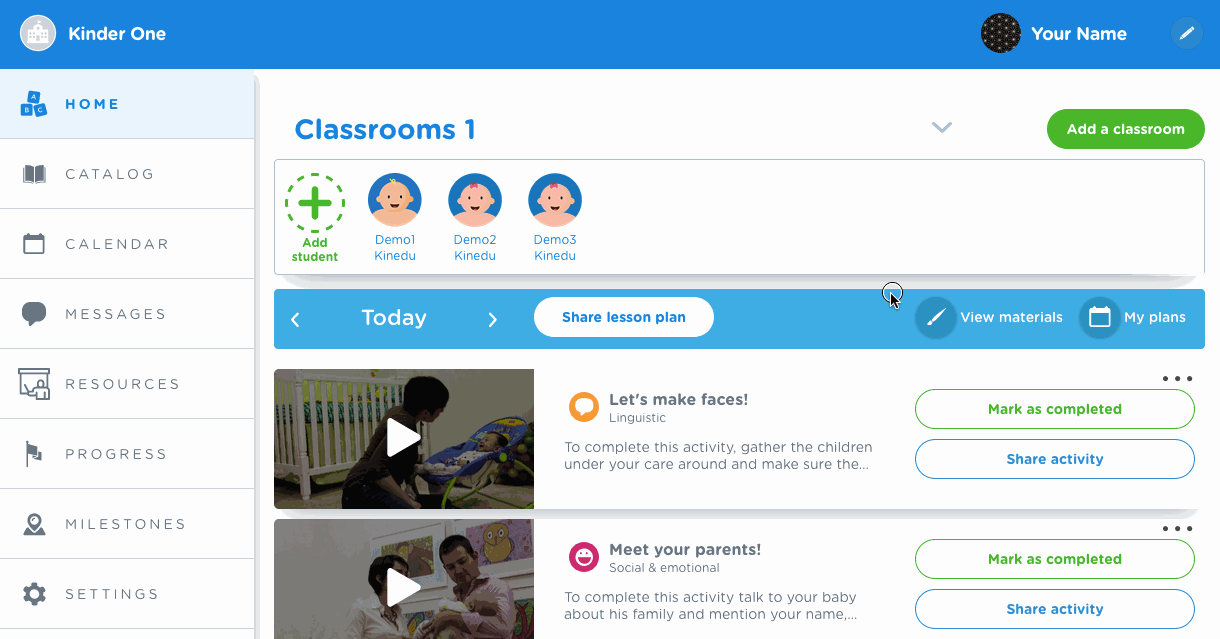 As an educator, you'll have access to your own personal information, which you can modify at any time. This includes your profile picture, name, last name, and the language you want to use on the platform. You will also have access to your assigned classrooms. This means that you will only be able to access the information of the students that are in these classrooms. If you think you need access to other students or classrooms, ask your school's director or administrator to give you access to them. 
School, classrooms, and students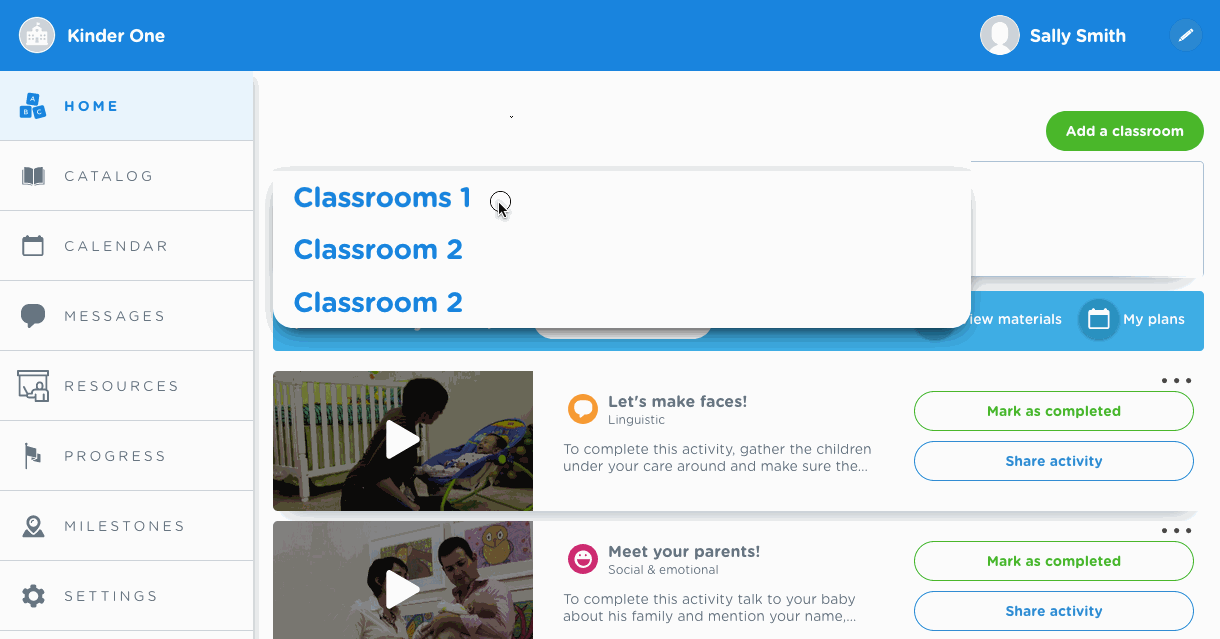 On the homepage, you'll be able to see your organization, your school, classrooms, and students.
To change from one classroom to another (in case you have more than one) select the drop-down menu on the upper part of the student list.
Adding students (and parents)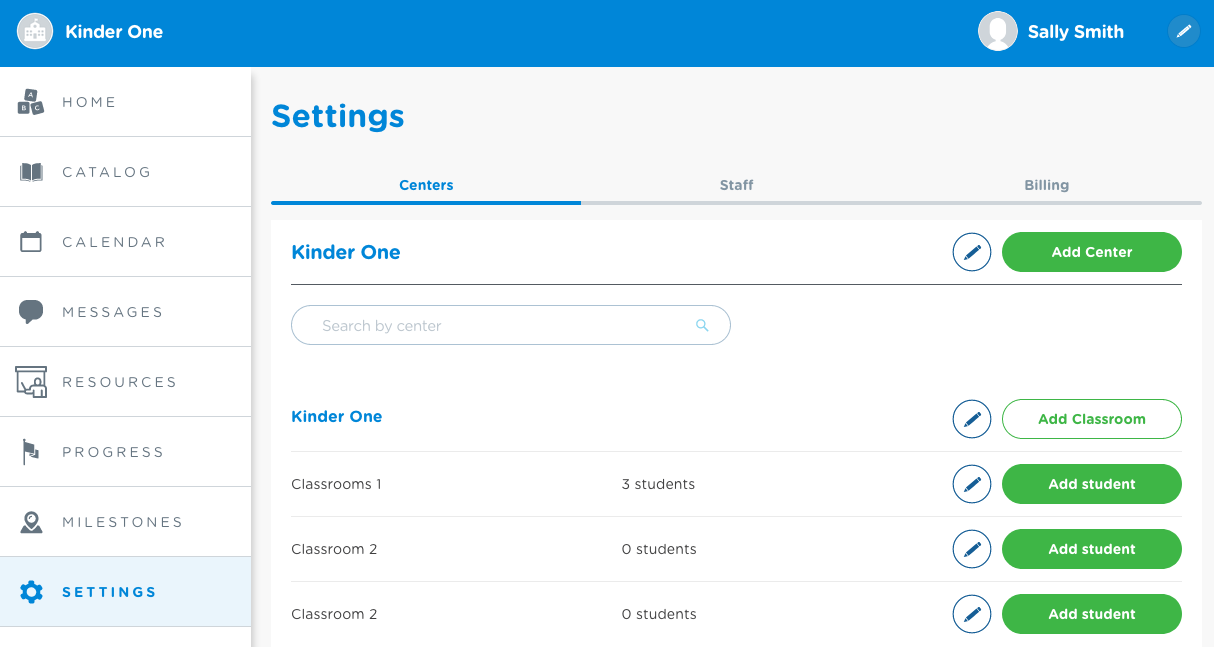 If you want to add new students, you can do it directly on the homepage or from the "Settings" page. 
Enter the email address of the parent you want to add.

If the parent already has a Kinedu account, our system will automatically recognize the email address and add the family's information.
Complete the parents' and student's information. 

Gestation weeks are the weeks of pregnancy that a mom had. Generally, 38 to 42 weeks are defined as the normal gestation period for a baby. In Kinedu we use this information to calculate a child's developmental age in case the baby was born prematurely, and it is only taken into account for children under two years old. 
If you don't know the gestation weeks select 40, this way the child won't be considered premature. 
If the parents already have a Kinedu account, the system will fill out the family's information. If they have more than one child, and not all of them will be in your classroom, you will have to delete the information of the child that won't be your student.  

All done! An invitation will be sent to the student's parents.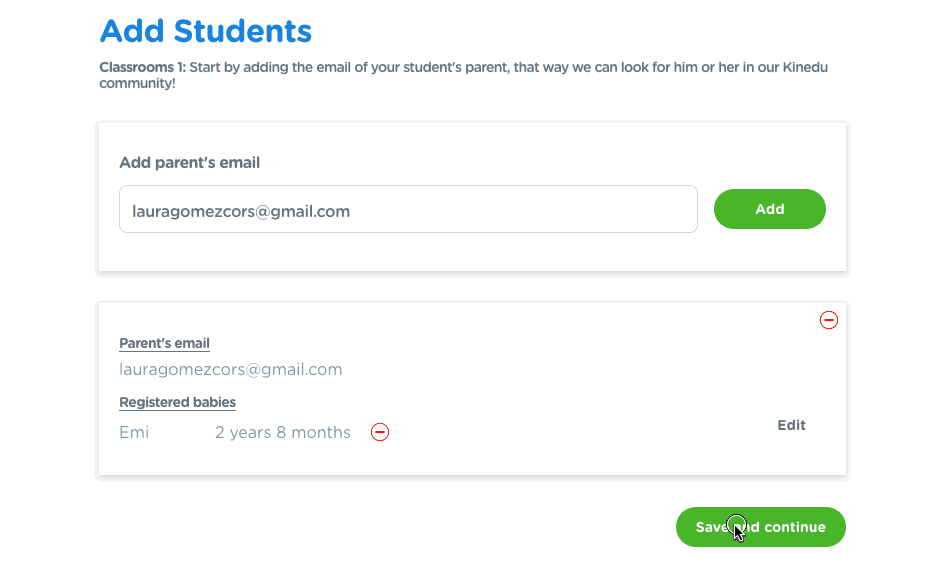 It's important to remember that you will only be able to invite one parent per student. For another parent to have access to a student's profile, the parent you sent the invitation to will have to invite their partner through the application (Kinedu).
IMPORTANT NOTE: Make sure you have your director or coordinator's permission before registering a new student since your school will be charged for license use.
To find out more about the steps that parents need to follow, you can read the parents' manual here. 

Student profiles
You can access your students' profiles by clicking on one of the students' icons on the homepage. A column with all the student's information will appear on the right side of the screen.  (Available on August 30th)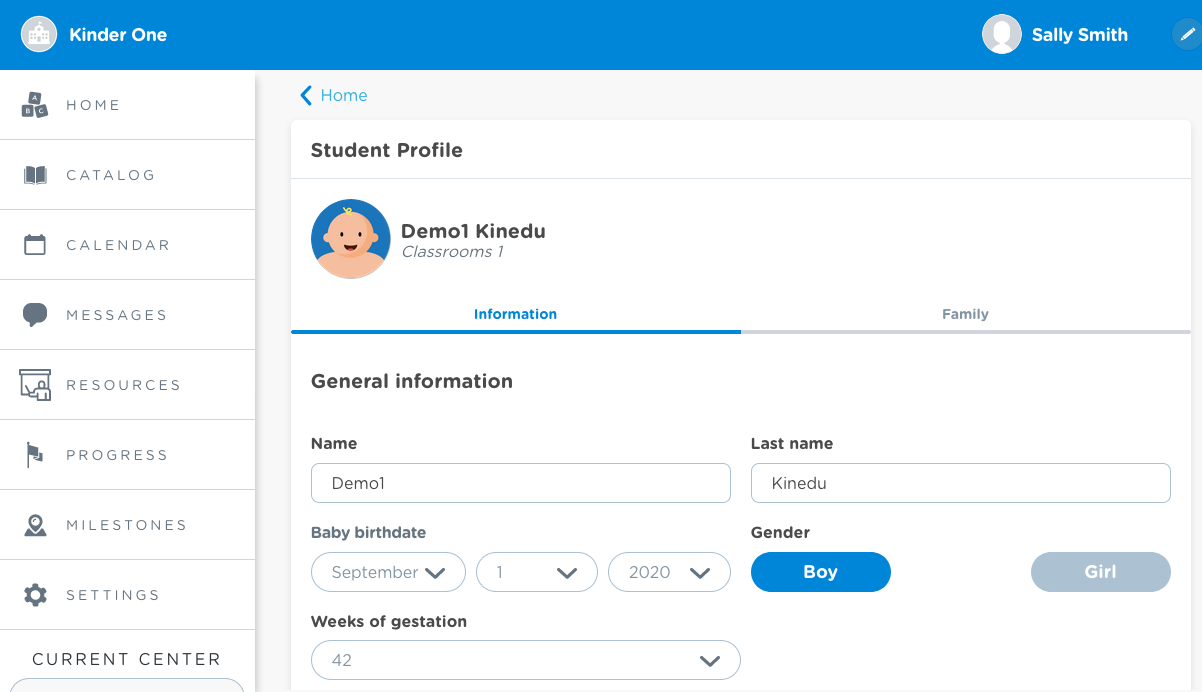 Deleting student profiles
To delete a student's profile go to their profile page, where you'll see a button that says "Delete student". Click on the button and confirm your action. Both directors and teachers can delete a student's profile, but teachers can only delete profiles that belong to their classroom (Available on August 30th).
IMPORTANT NOTE: Make sure you have your director or coordinator's permission before deleting a student's profile.
Activity plans 
Creating an activity plan 
The Kinedu algorithm makes educational planning easy and simple. We take the developmental milestones of each student into account and suggest modifications based on their progress. 
As you advance through the activities, make sure you mark them as "completed" for each student that participates. This will help us create a personalized activity plan based on the unique developmental progress of each student.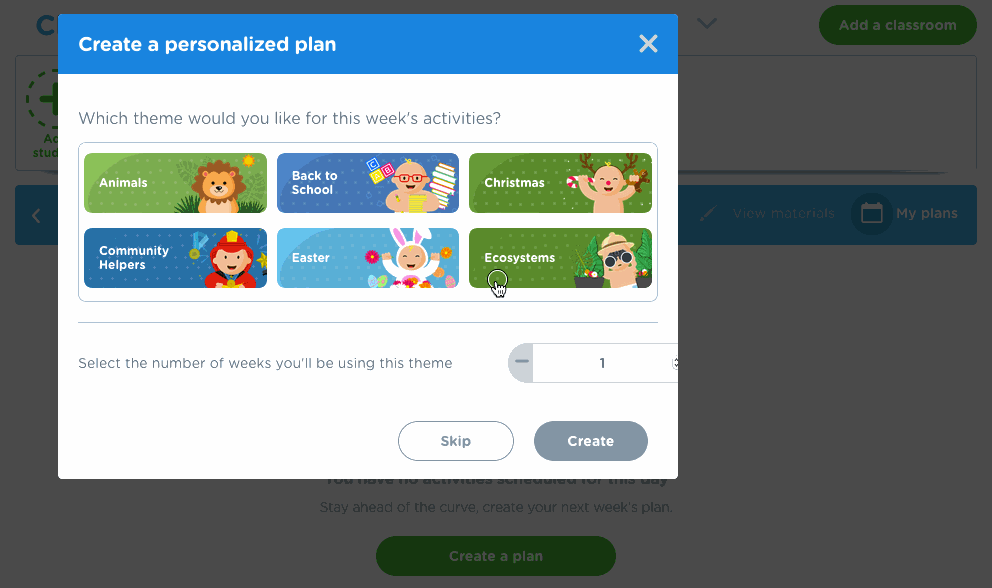 Creating a new activity plan
Make sure your students are registered in the classroom.
Click on "Create plan".
Select the theme for the week and how long you want to spend on this topic. (You can also choose your own collections, or you can do a plan without a particular theme.)
*The duration will define how many weeks you'll be reviewing a specific theme. For example, if you select "Animals" and a time frame of two weeks, we'll suggest activities related to animals for a period of two weeks.
You're all set! Your plan will be created with the necessary considerations to propose daily activities that will be relevant to your students' development levels.
Seeing your plan
Your plan will appear in the Home section, showing you the recommended activities for the day. You'll be able to:
Browse the activities of the coming or previous days
Consult the materials you'll need for the coming week
See plans programmed for the next few weeks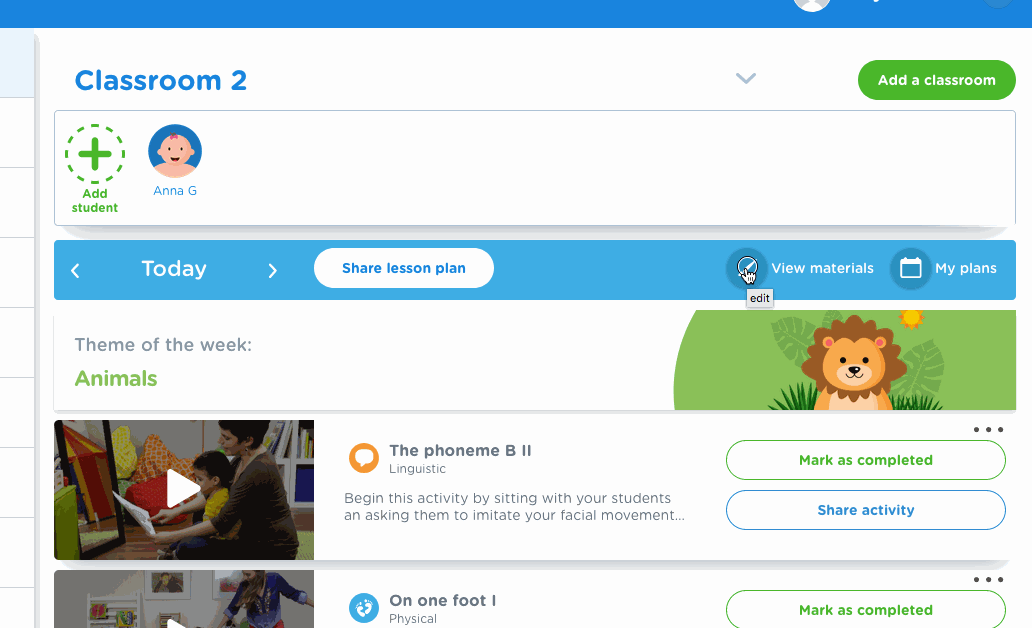 It's possible that you can't see the option of an activity plan when accessing your account. This might have to do with the configuration and kind of plan that your institution selected. It's important that you take your school's configuration into account since they can choose specific activity plan settings. For example, they can decide that activities are meant to start on Monday and finish on Friday. This means that if you access the platform over the weekend, you won't have any suggested activities. To know more about your school's activity plan and how many activities Kinedu will suggest every day, we recommend you contact your school's director or administrator. 
Sharing plans with parents
You'll be able to share the activity plan with the parents so your students can keep learning at home. Parents will be able to visualize the recommended activities on Kinedu.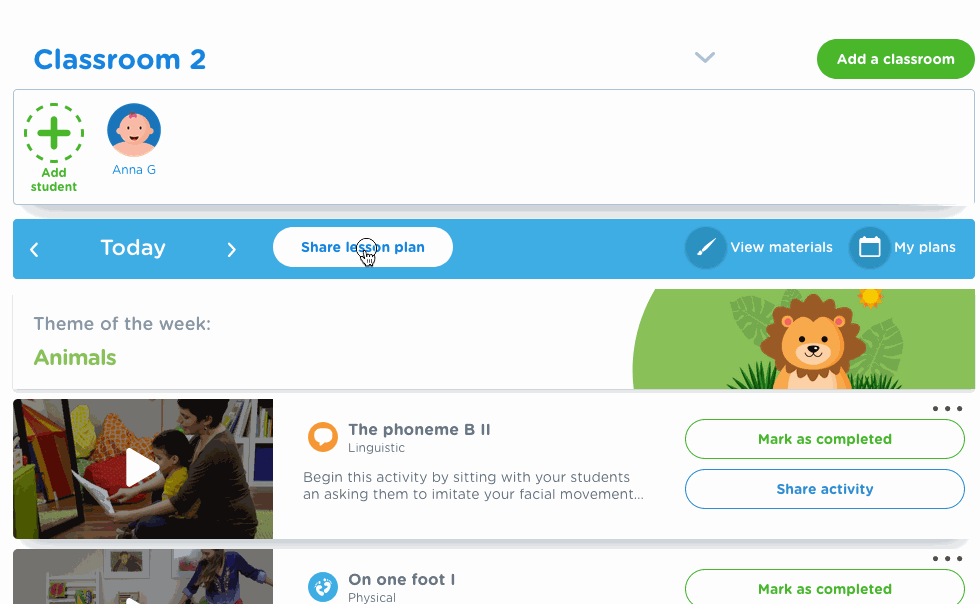 You only need to click on "Share plan" and then select "Share through email". Parents will receive a PDF with a weekly calendar showing the activities planned for each day of the week. This PDF will also appear on their feed in the Kinedu app, where they'll be able to access it as well.
Marking an activity as "Completed"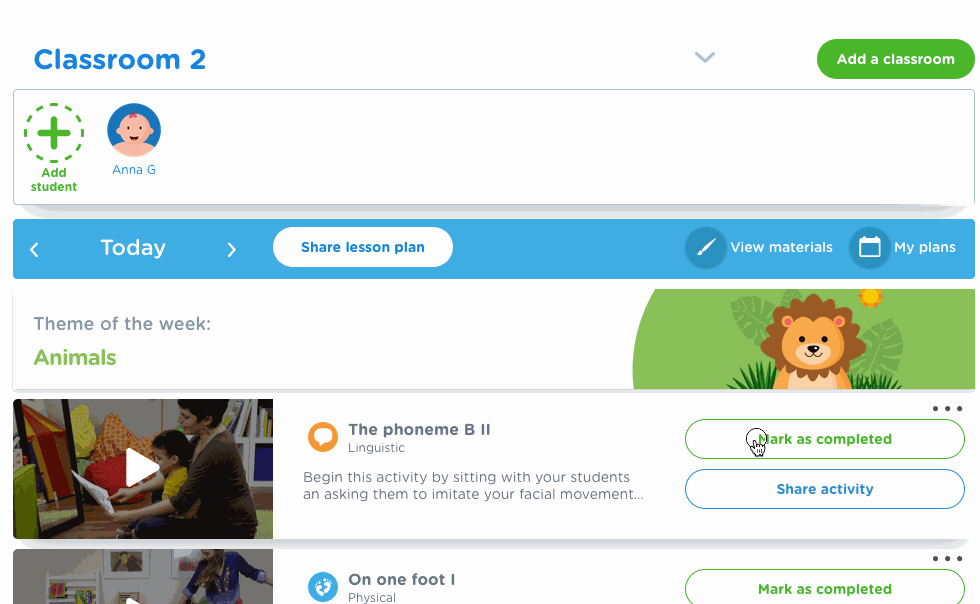 It's very important to mark activities once they've been completed, so the algorithm can know which activities have been done and which haven't.
To do this, select the "Complete" button. A panel will pop open on the right side of the screen where you can fill out the information about the completion of the activity. These are the steps you need to follow:
Select the students that completed this activity.
Fill out the milestones for each individual student. Each activity has three stages of development: 
1. Introduced: This stage is the first time a student has been introduced to a skill or milestone, and the ability to complete the activity is only just developing.
2. In process: On this stage the student has shown hints of getting a grasp of the milestone, maybe achieving it once or showing positive progress. The focus of this stage is reinforcing the milestone through repetition and practice.
3. Mastered: The milestone is considered as mastered when the student achieves it in most circumstances and recurrently.
 All done! Once you fill out the information for each student, the activity will be marked as "Completed".
Should parents also mark activities as completed? 
If you're sending activities to parents, either as a PDF or as an individual message to a specific parent, it's important that they also mark the activities as completed. This way, they'll be able to help you mark the milestones related to the activity. 
It's quite easy for them to do this since they just have to mark "yes" or "no" if their child achieved the milestone. This will help you keep track of each student's progress, both at school and at home. 
Comments on the activities
After all the information you need to know about every activity, you'll find a comments section. The comments section at the bottom of the activity will allow you to document opinions and suggestions. These comments will only be seen by your organization, which means that if your school is part of a larger group of centers, everyone with access to the activity will be able to see your comments, and you'll see theirs. 
In this section, you can write down any type of information or note that you (or someone from your institution) might find useful later on. We recommend that you leave comments that can help your peers improve or modify the activity, that way everyone can keep improving!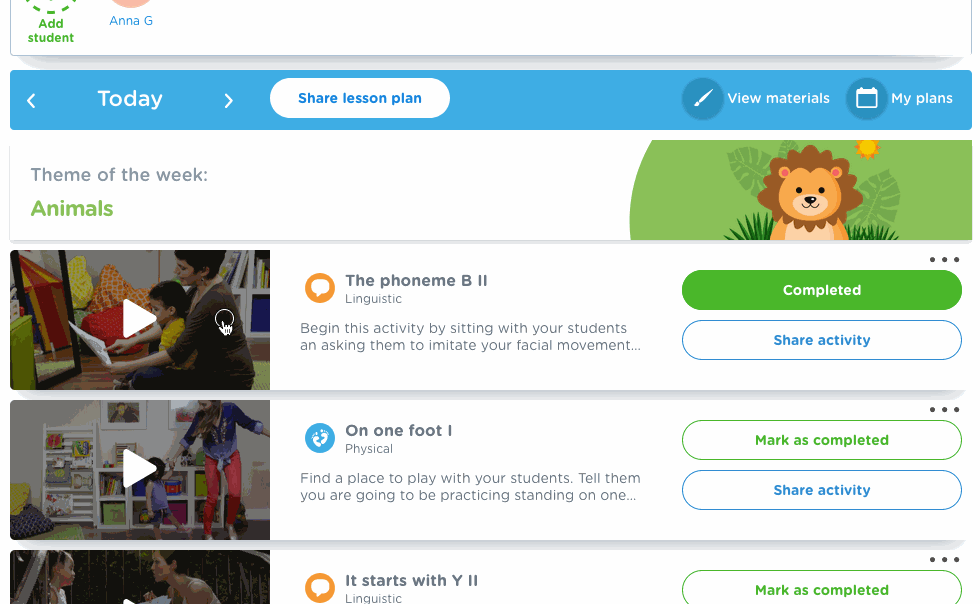 Assigning activities to parents 
Apart from sending parents a calendar of activities, you can also send individual activities to several parents, or to just one, so your students can keep working on their skills at home. 
To do this, click on the "Share activity" button on the activity card. A list of students will pop up, so you can choose who you want to send the activity to. Select the students you wish to share the activity with and you'll be all set! The parents will get an email with the activity and the instructions to perform it, and it will also appear on their Kinedu app.
Activity catalog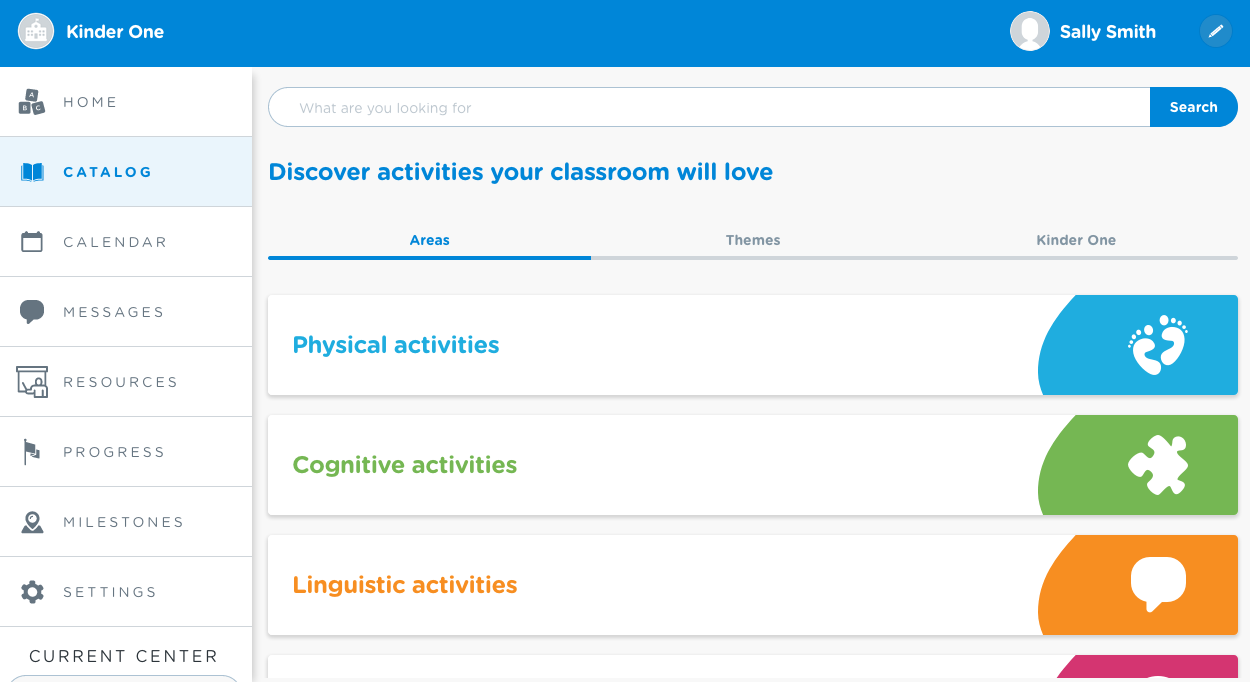 Searching activities
The activity catalog includes more than 1,400 activities for all ages, related to all kinds of themes and styles. To access the catalog just click on the "Catalog" button on the left of the screen.
There you'll find activities divided into three subsections: 
Here you'll find activities filtered by the four areas of development: physical, cognitive, linguistic, and social and emotional. Clicking on any of these categories will show you the available activities related to each area.
Searching for activities by theme will show you all the activities related to a specific topic. The themes shown are predetermined.
The activities on the section that has your institution's name are activities added by a member of your school or center. 
Filtering activities
Another simple way of finding activities is by using the filter in the catalog. 
The filter allows you to find activities by:
Range of age (in months) 
Themes
Areas
Skills
This means that you can filter activities by more than one criterion. For example, choosing activities in the physical area for children between 16-48 months will only show you activities that fit those criteria.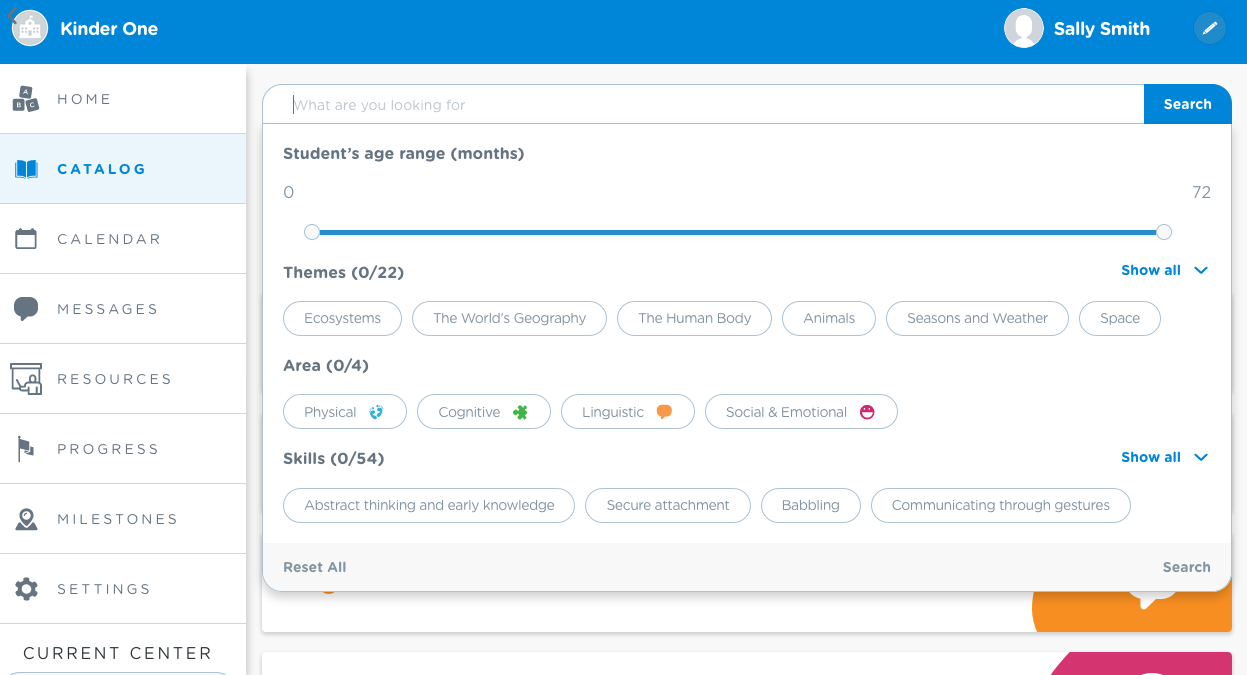 The benefit of using this filter is that you can quickly find activities that fit the specifications you're looking for.
Adapting activities (by theme and level of development)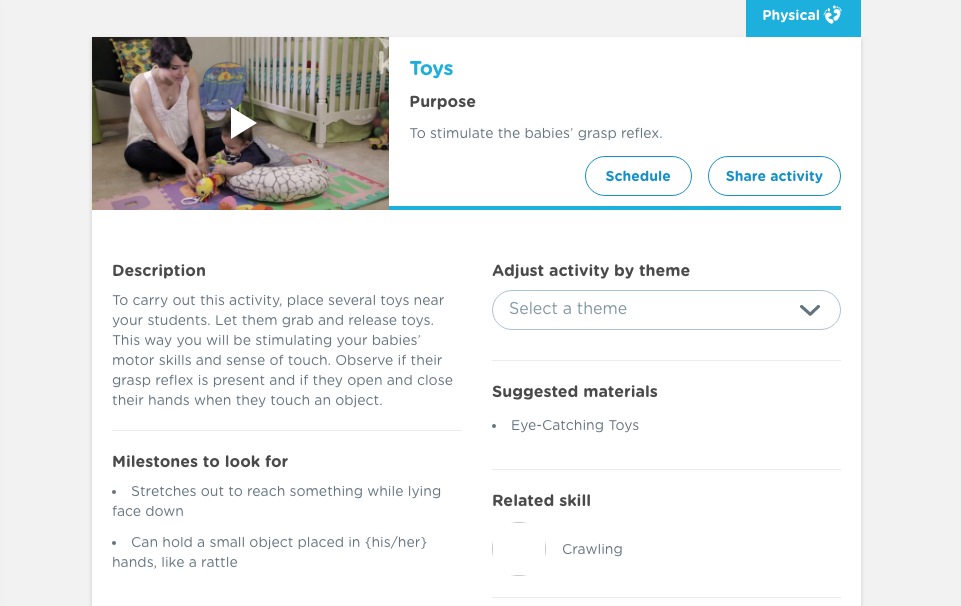 *This feature can only be applied to Kinedu activities
Activities can be easily adapted to fit the relevant themes and your students' level of development. To adapt them, you only have to click on the activity shown on the weekly plan, and a window with details and adaptation options will appear.
Here, you'll see an option to "Adjust activities by theme", and another to "Personalize by stage of development". You can use these tools to adjust activities so that they fit the purpose of your class and your students' skills. (It's important to note that not all the activities are adapted to a theme.)
The "Personalize by stage of development" option will allow you to adapt the activity for those students who need either more advanced or easier versions of the activity. Keep in mind that not all activities have this option. 
If the "Personalize by stage of development" option is unavailable, this means your students are too young for this activity, so we suggest you look for another one that's more appropriate for their age.  
Uploading your own activities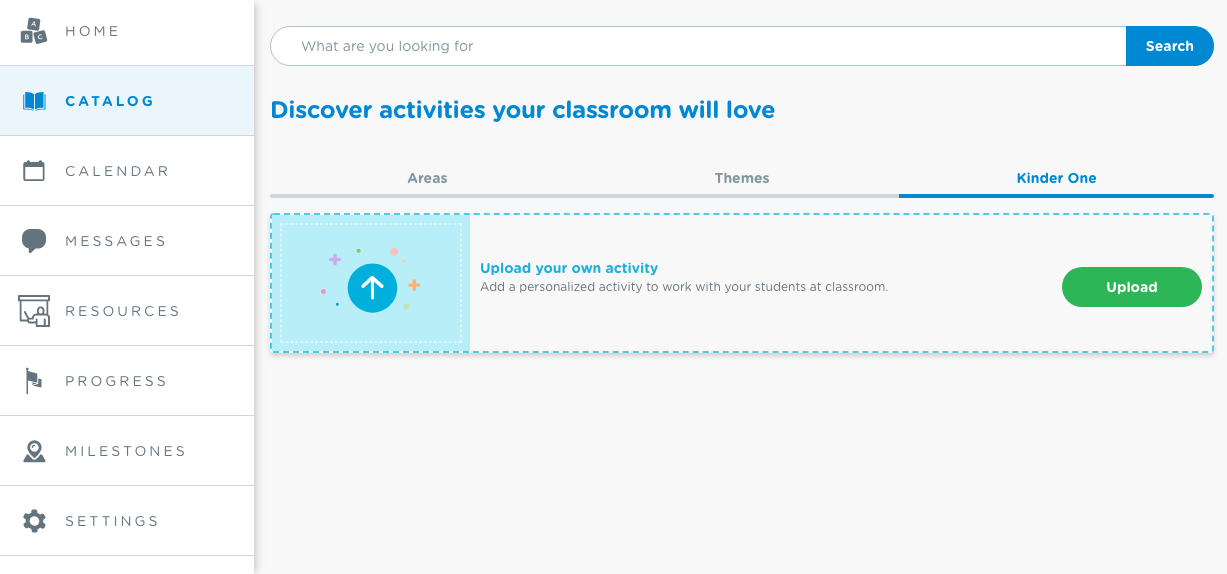 You can take advantage of this feature if your school or center has its own activities that you want to upload and add to the weekly plans. 
Follow these steps to upload an activity:
Select your center's name in the "Catalog" section. 
Click the "Upload" button.
A form will pop up. Fill it out with information about the activity. 
The optimal size to upload an image is 1920×1080 pixels, and the file can weigh up to 300 MB.
Establish at least one milestone that the activity will foster. 
Make sure you choose an area of development first and then choose the skill that your students will be working on. By doing this, only the milestones that belong to this specific area will appear, and you'll just have to pick one. 
Select or create a new collection to save your activity. 
Your school might have already created some collections. Consult with them first to make sure you're saving the activity in the right collection. 
All done! Now you can add this activity to your weekly plans or share it with your students and their parents. 
Privacy
The activities you upload can have different visibility settings for the Organization, Center, and Classrooms.  
Organization: When you choose the visibility to be at the Organizational level, it means that every school in your organization will have access to the activity. 
Center: If you choose the Center level, only the teachers from your school will be able to access the activity. 
Classroom: If you choose this level, the activity will only be available to your classroom, and only the teachers with access to your classroom will be able to see it. 
Editing or deleting activities
Currently, we don't have an option to edit your personal activities, so we recommend that you delete them and upload them again. 
To delete an activity, just go to the collection it is saved in and click on it to open it. Once you're in the activity's description, click on the three dots […] on the right side. You'll be shown a "Delete" option, just click on it and confirm the action. 
Remember that other teachers and parents won't be able to access an activity after it's been deleted.
Adding an activity from the catalog to my plan
You can add activities from the catalog to an already existing weekly plan. Just follow these steps: 
Head to "Catalog".
Look for the activity, and select "Schedule" on the activity view. 
You'll have to fill out some information about what classrooms and what days you'd like to add the activity to.  
You can decide if the activity will be mandatory within the weekly plan, which means teachers won't be able to delete it from their schedules. If it isn't mandatory, teachers can delete it from their plan.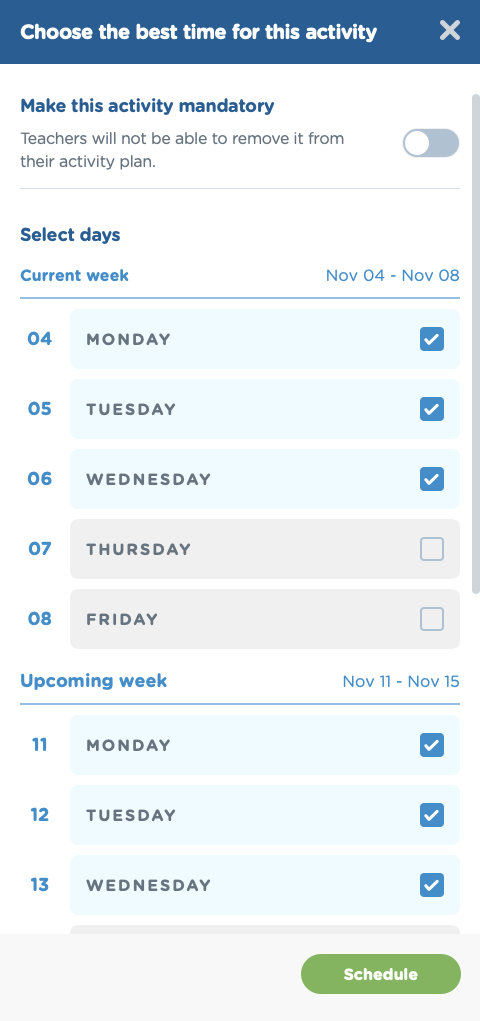 Communication
Publishing announcements and sending messages
Notices and announcements are messages that you send to every parent in your classroom. To send out a notice select the "Messages" section on the left-hand menu. 
Select the recipient you want to send the notice or message to, choose a subject, and write the message. You can attach documents (PDFs, images, etc. that weigh up to 10MB) and include links in your messages. 
You can use the "Announcements" feature to send out information about homework, important notices, general messages, class cancelations, etc. 
Parents will receive a new message on the Kinedu app, where they'll be able to check and answer notices, announcements, and messages.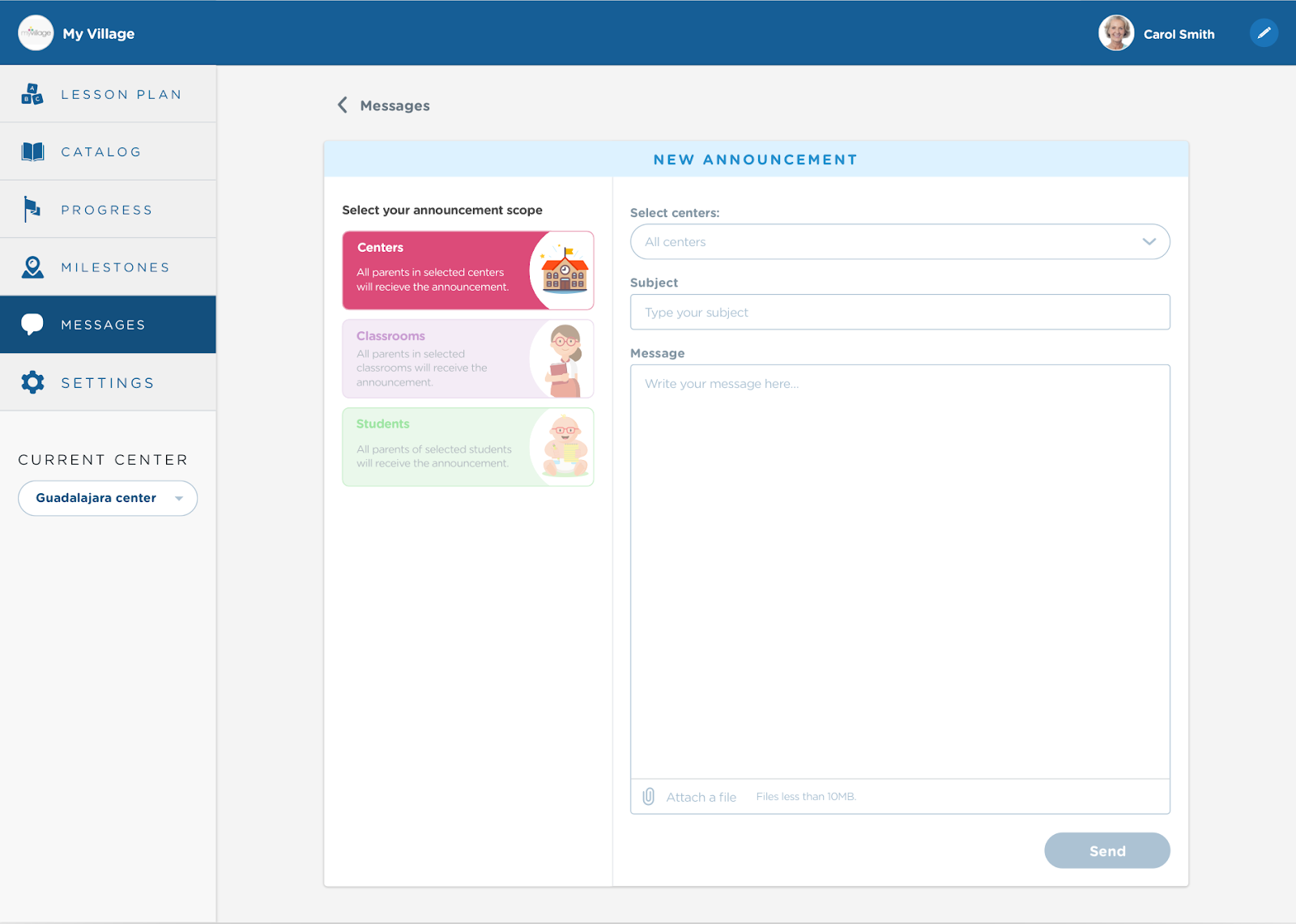 Deleting announcements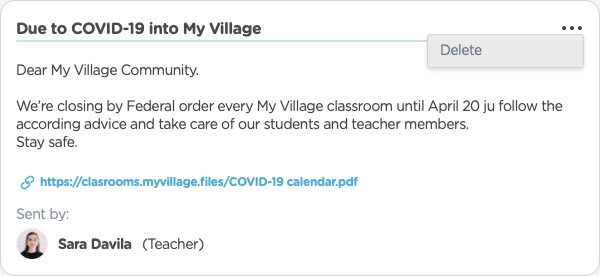 If you want to delete a notice or message you can do it by clicking on the three dots that appear on the upper right corner of the message, where the "Delete" option will appear.
Starting a new chat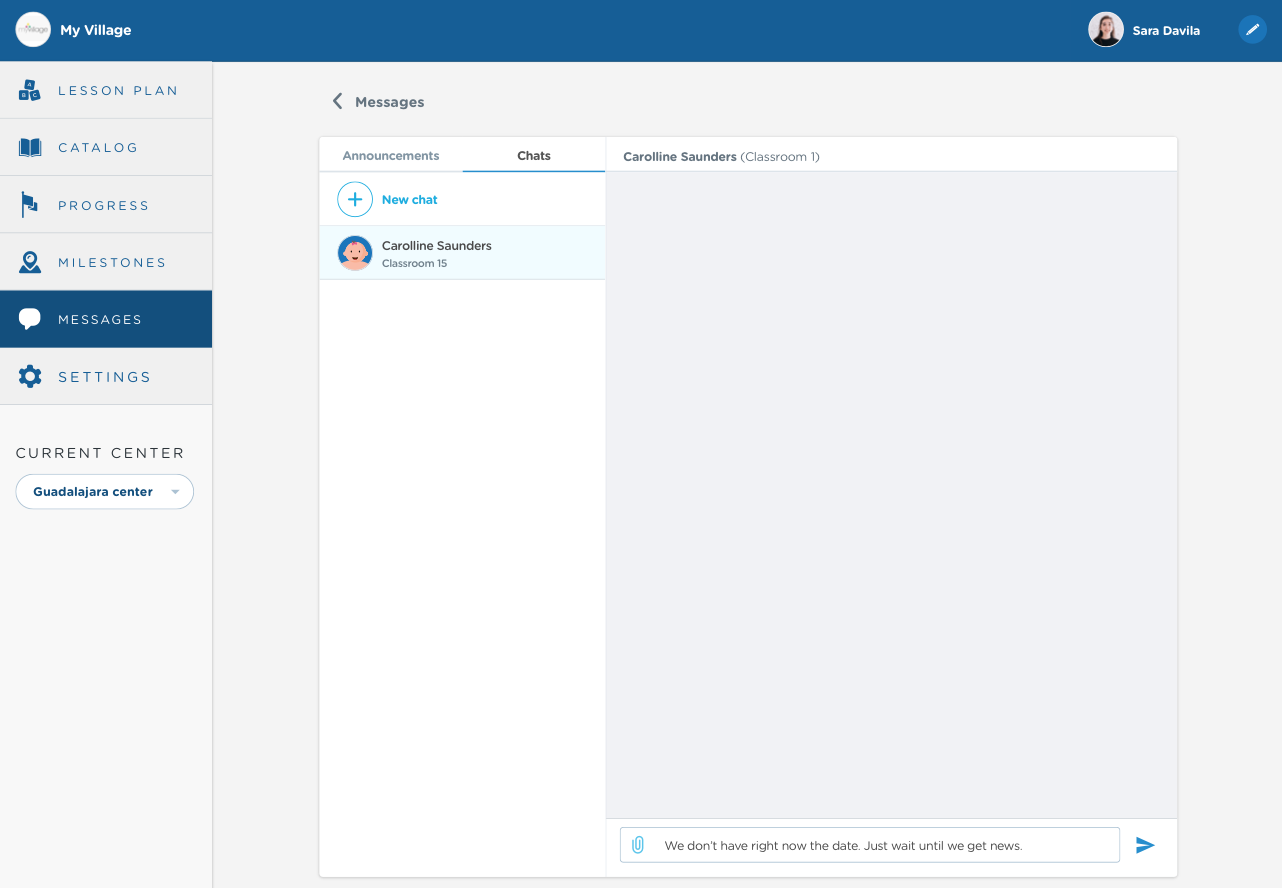 The chat option will allow you to have a more direct and personal conversation with your students' parents. To send out a new message click on the "New chat" option at the top of the "Chat" page. Select the name of the student whose parents you want to contact and write your message. You can also send links and documents of up to 10MB through the chat. 
Who can see the chat?
Anyone related to the student in question has access to the chat:
Parents
Teachers assigned to the student's classroom
Center administrators 
All these users can see and send messages on the chat.
Deleting a chat
Just like with the announcements, you can delete a chat message by clicking on the three dots on the upper right corner. When you delete a message, it will be replaced by a notice that says "This message has been deleted".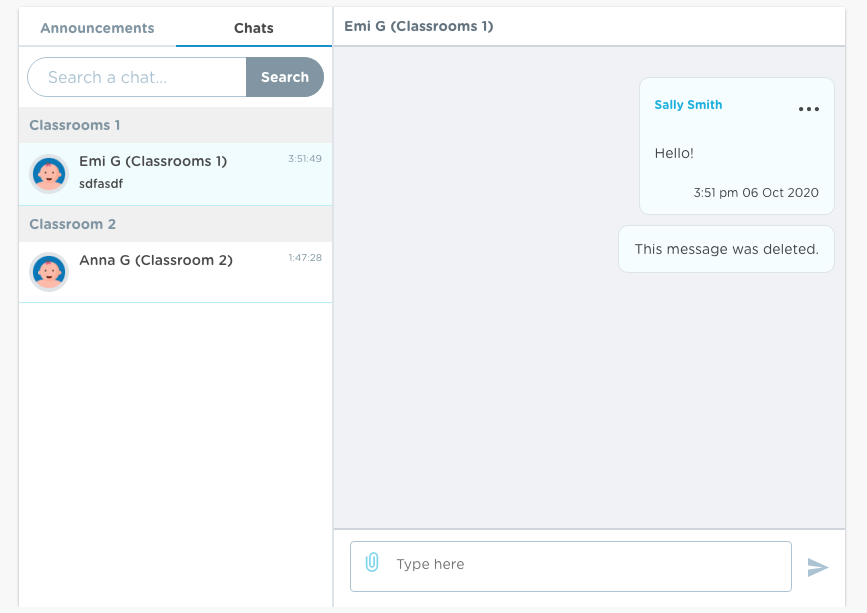 Seeing the messages history 
The message history of every student will be saved on the student's chat page. There, you'll be able to consult all the sent and received messages. Deleted messages will be replaced by a notice that says "This message has been deleted".
Calendar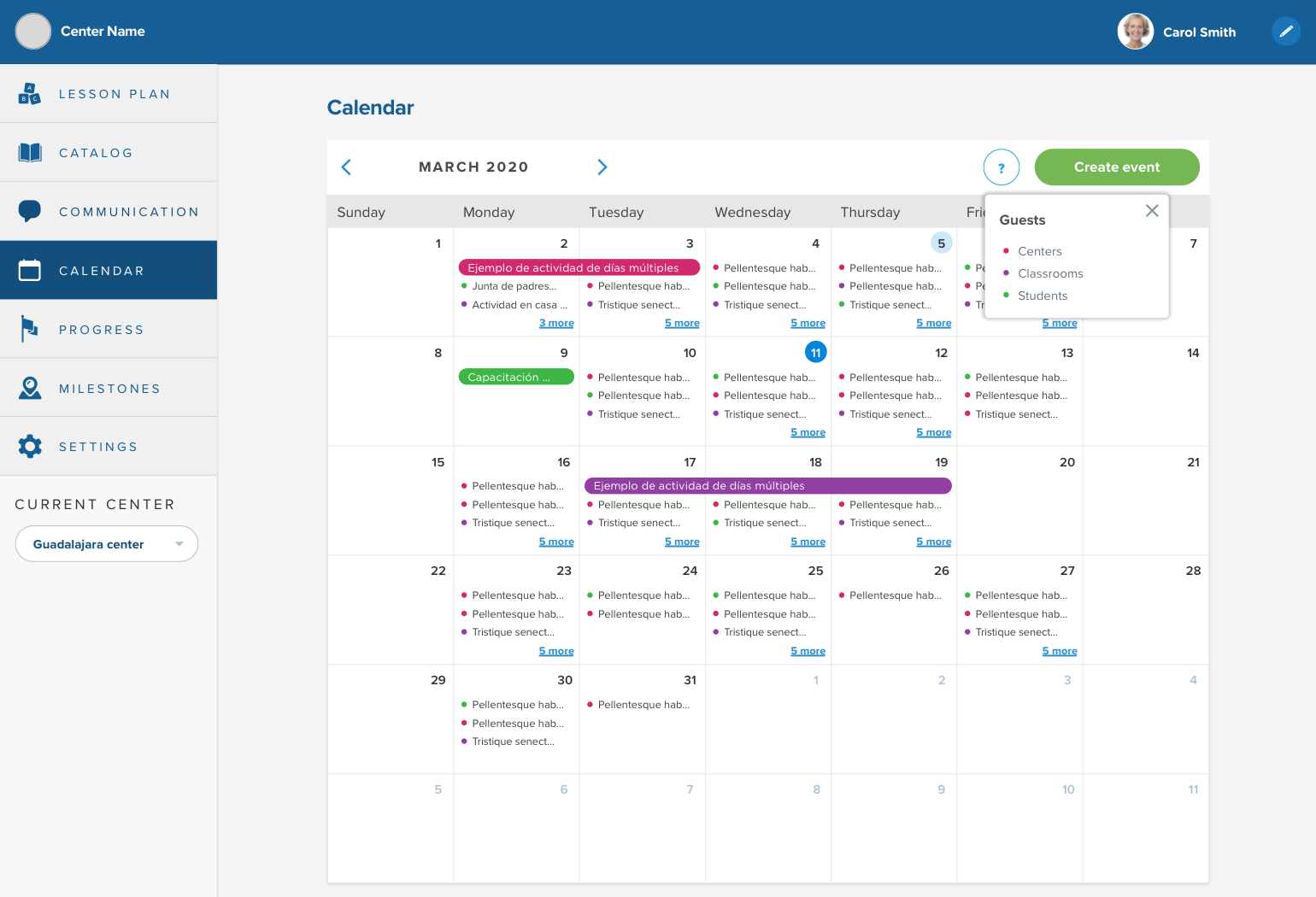 The calendar will allow you to schedule center or school activities. Here, you'll be able to schedule everything from virtual meetings to school events. 
Creating a new event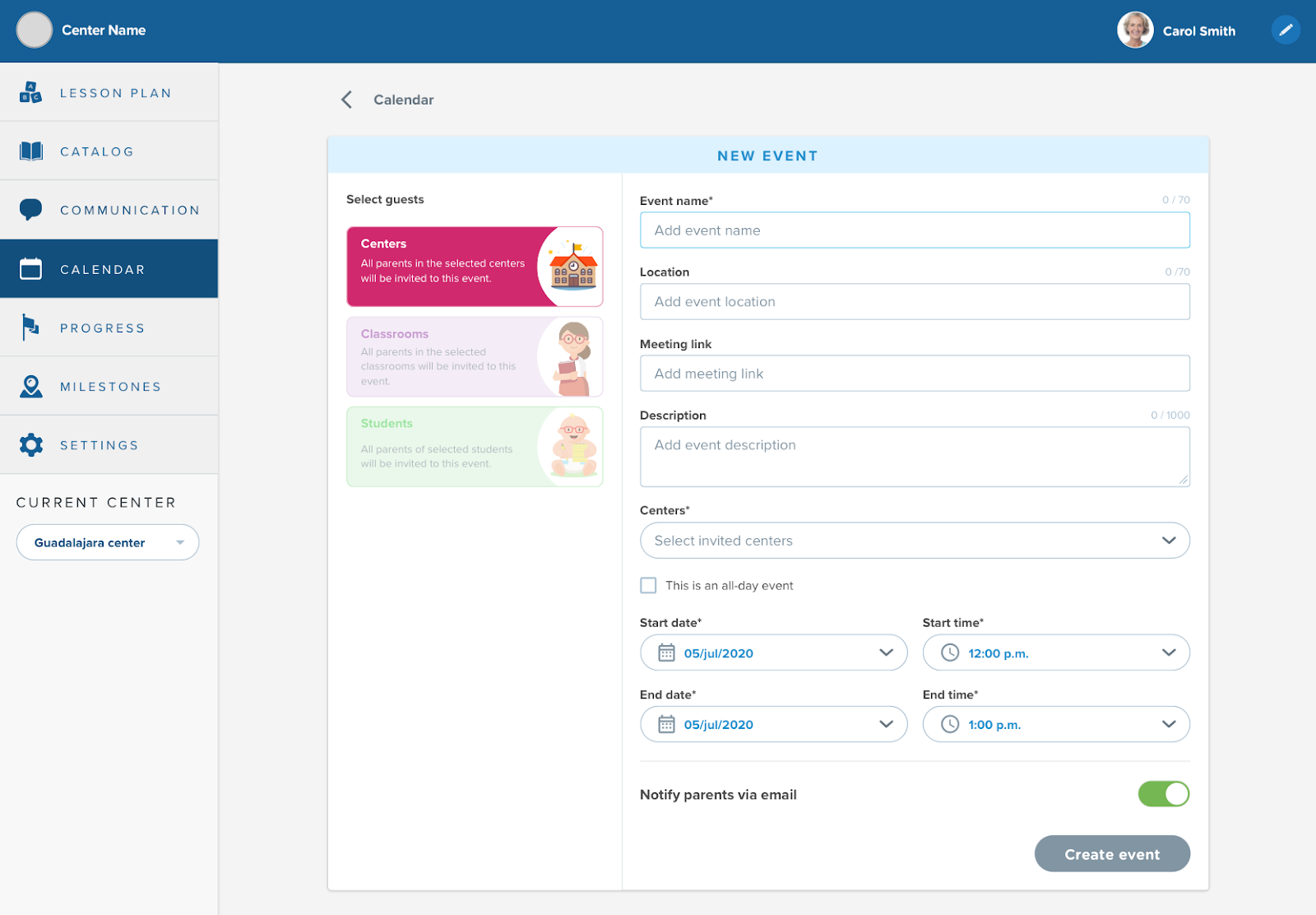 To create a new event click on the "Create event" option. Select who the event will be addressed to and fill out the mandatory information.
The event can be addressed to: 
Centers: Selecting this option will allow you to send an announcement to all the parents that belong to a specific center. Only administrators who have access to all the centers or schools will be able to use this option. 
Classrooms: Selecting this option will allow you to choose a specific classroom, and you'll be sending the event to all the parents who belong to that classroom.
Students: This option will allow you to choose one or more specific students whose parents you want to send an event to. 
Mandatory information:
Name of the event
Participants
Date and time of the event
The event will be added automatically to the calendars of the involved parents and teachers. Teachers will be able to consult events from their Kinedu Educators account, and the parents will be able to see them on the Kinedu app.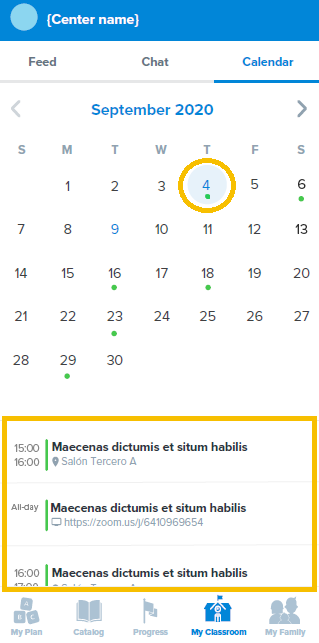 Editing or deleting an event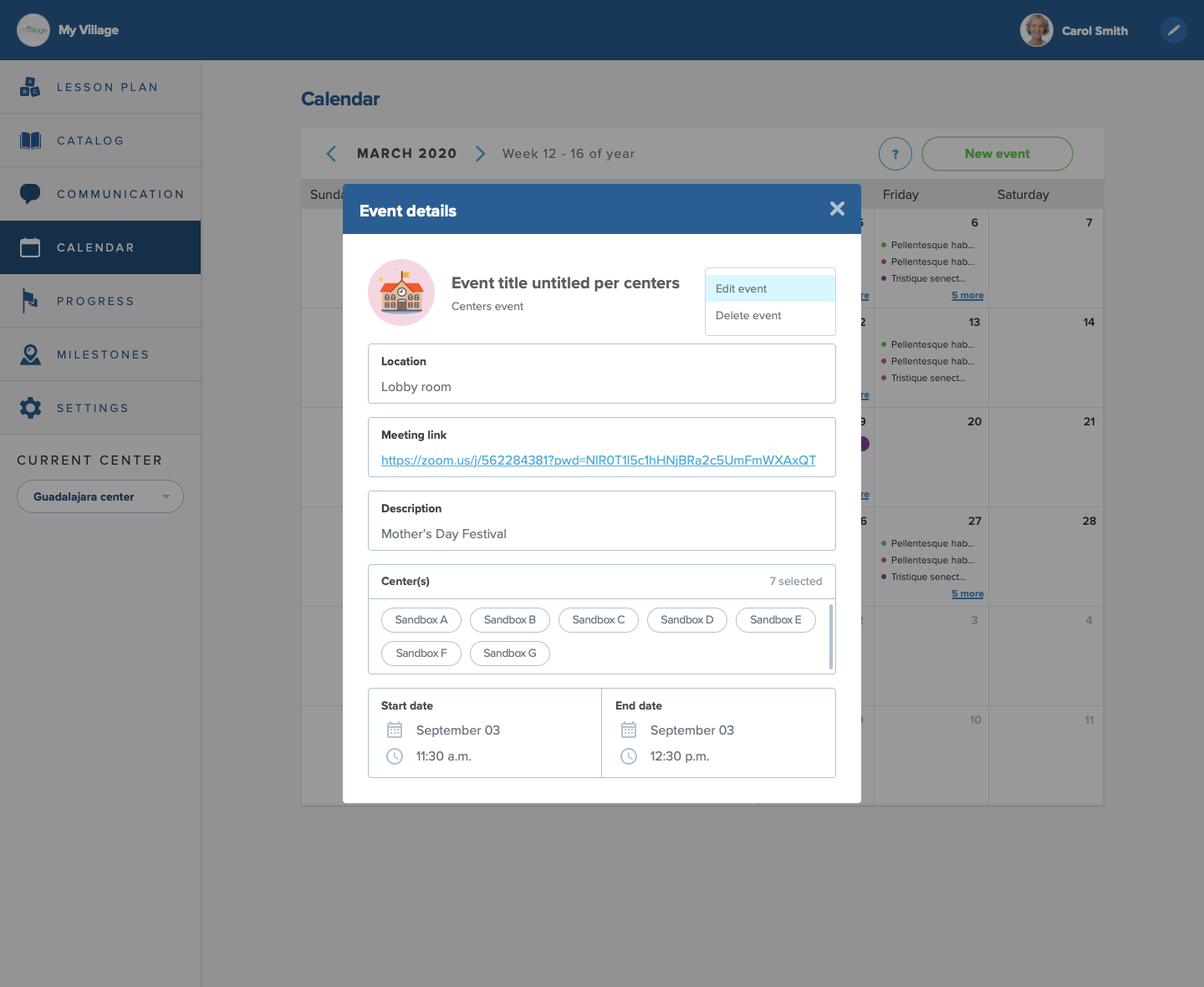 If you wish to edit or delete an event, select the desired event on your calendar. A window describing the event will pop up, and you'll be able to see three dots on the top right corner. Click on the dots and select if you want to edit or delete the event. If you delete an event, it will also be deleted from the other teachers and parents' calendars.  
Educational resources
The educational resources are files that you can save on Kinedu Educators and add to your activity plans to make the educational process easier. These files can be images, PDFs, or links.
Browsing resources
Types of resources
Kinedu Educators allows you to access pre-recorded resources, as well as uploading your own. To differentiate between your resources and those provided by Kinedu you only need to identify the folder they're saved in: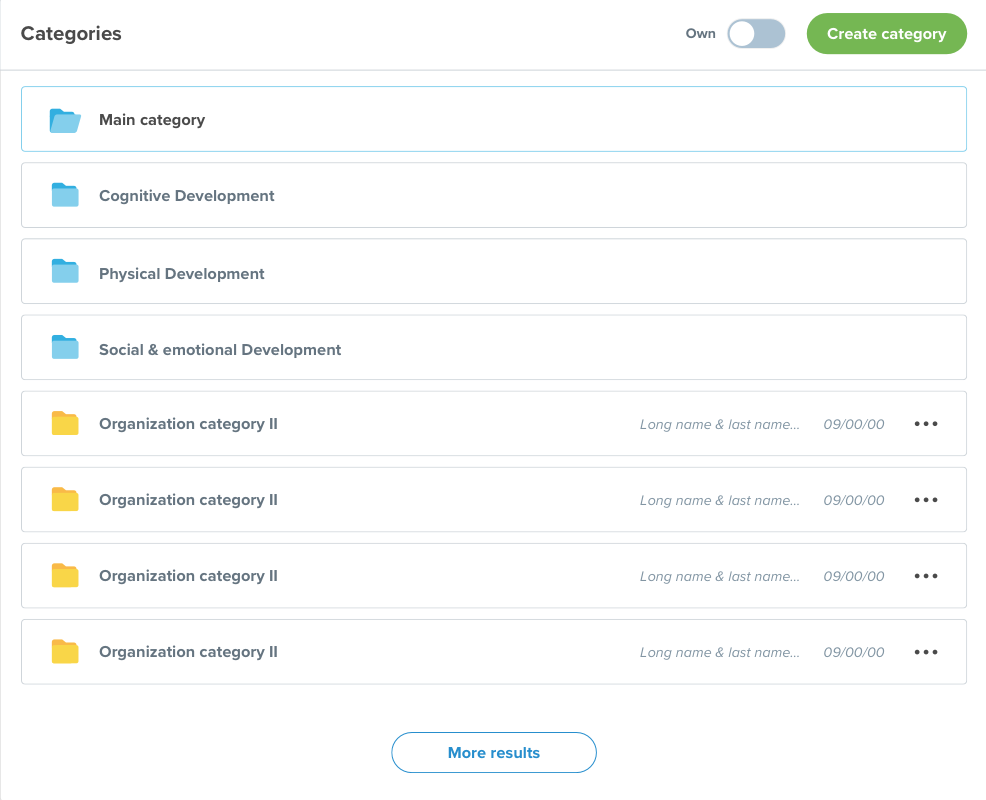 Blue folders: Resources provided by Kinedu Educators
Yellow folders: Your own uploaded resources
Resource organization
Resources are saved in three different sections: resources for educators, resources for parents, and resources for students. These categories will allow you to organize the resources in a way that is easier to access.
Categories and subcategories
Each section is divided into categories; there are some pre-established ones and you can also add your own. These categories are the generalized way of viewing your resources.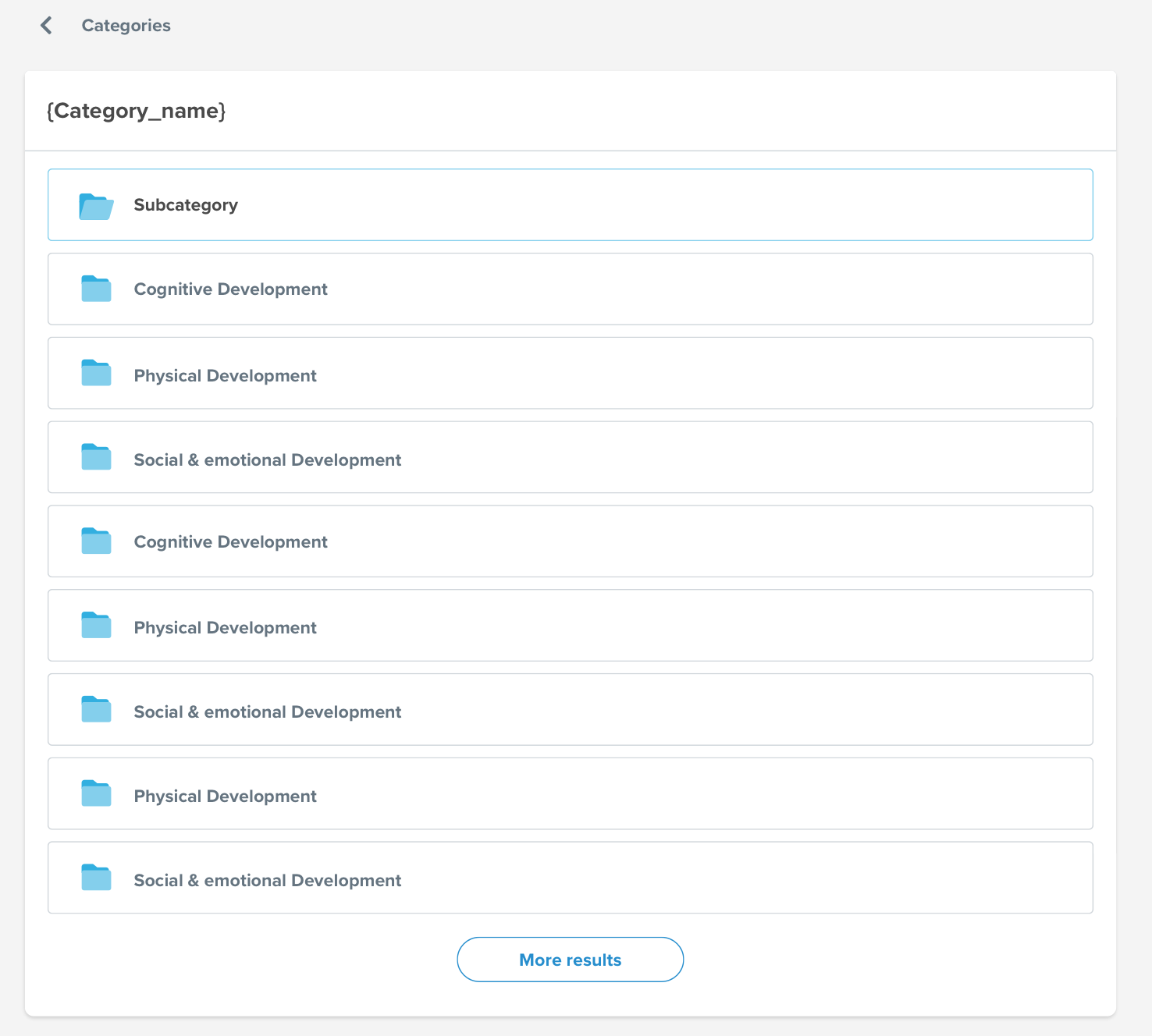 Inside each category, there are folders that represent subcategories, where files are sorted into more specific groups. You'll be able to see all the files and resources by clicking on the subcategory folders.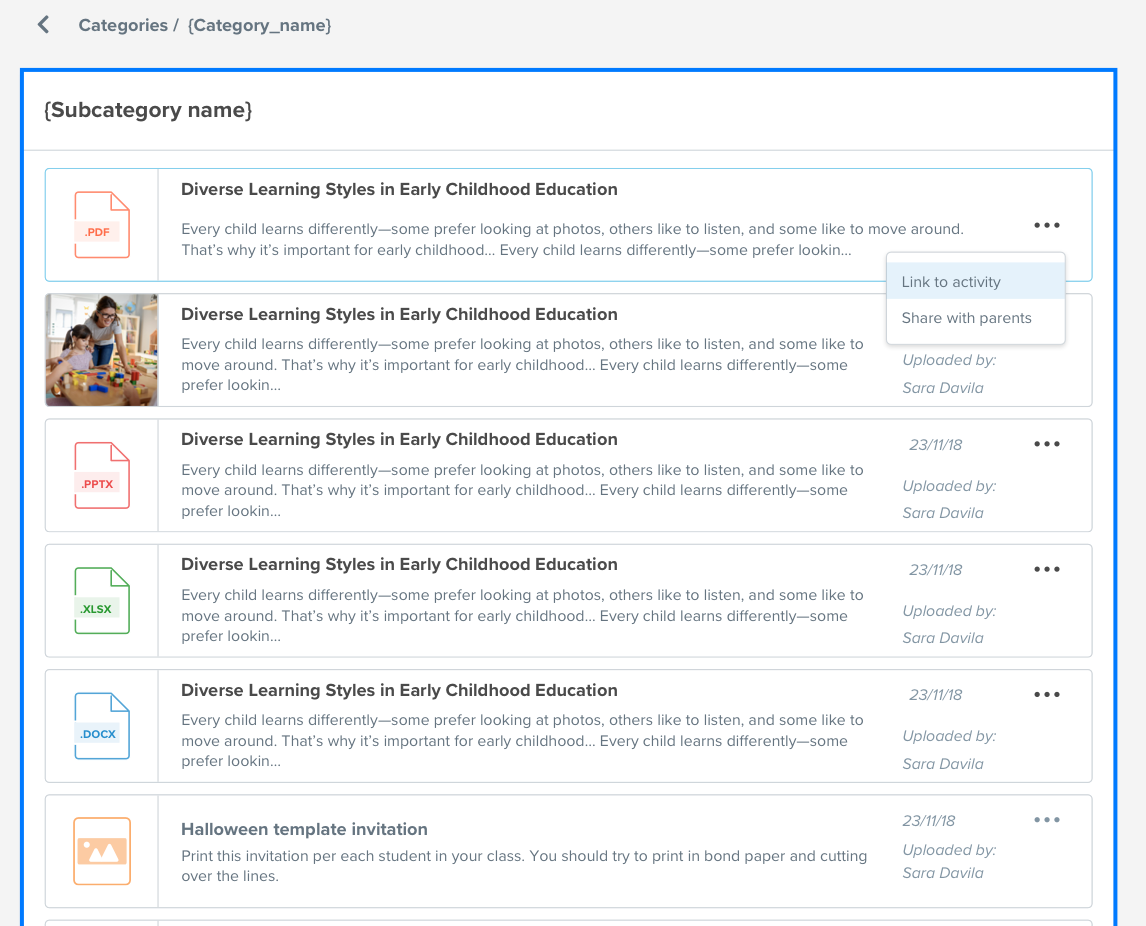 Adding your own resources
To add resources, first, you need to create a category and subcategory. 
Create a new category or make sure there's already a category folder created by the school (a yellow folder). 
Create a  new subcategory or make sure there's already a subcategory created by the school (a yellow folder).
Click on the "Upload resource" button.
Fill out the resource information, so that whoever has access to it knows what the resource is about. 
Sharing resources with parents
Sharing resources with parents is very easy. Once you're in the subcategory folder, you'll be able to see the information of every available resource. Click on the three dots on the right-hand corner of the resource, and then select "Share with parents". Then, just follow the instructions to select the recipient.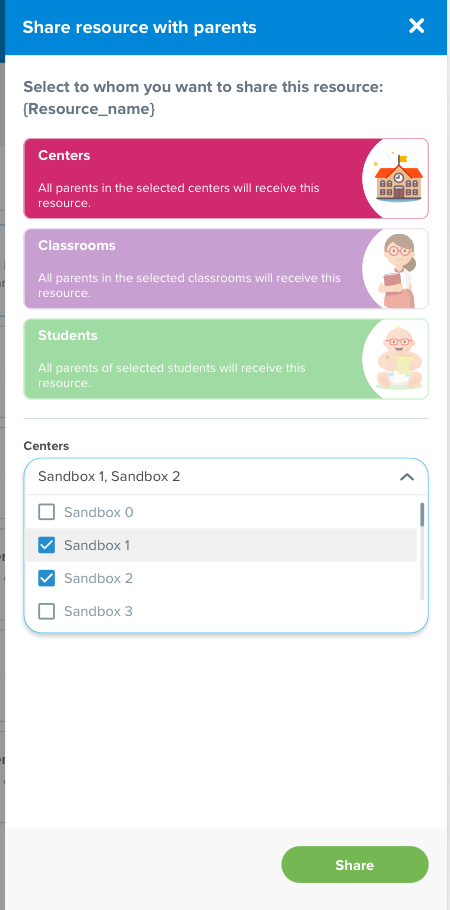 Kinedu for parents
Click here to see the Parents' Guide