Key points:
1. Books are effective tools to help children identify and understand different emotions.
2. Babies are born with various emotions, and they need help in expressing and coping with them.
3. Fostering emotional intelligence is essential for children's development.
4. Recommended books for teaching emotional intelligence include "I Am Happy: A Touch-and-Feel Book of Feelings" and "When I Am/ Cuando Estoy."
The first years of your child's life are normally an incredibly happy time for everyone, but that doesn't mean that they don't experience other feelings. That's why books can be effective tools to help your child identify different emotions and teach them emotional intelligence.
Children's emotions
Psychologist Silvan S. Tomkins explained that a baby is born with around nine different emotions: interest, enjoyment, surprise, distress, anger, fear, shame, disgust, and dissmell. He said that over time, those feelings are combined and with experiences to form more complex ones. Also, we know that at times, babies and toddlers have trouble expressing more difficult feelings and, as they grow, they have to cope with anger and fears. 
As a parent, it's tough to not be able to understand how your child is feeling –after all, they are not able to put into words what they're going through. That causes frustration. Imagine not being able to explain or even understand what you are feeling! That's why it is so important to foster emotional intelligence.
Teach emotional intelligence through books!
Books can be useful tools to help your child identify and make sense of their feelings, and they can help you teach them how to deal with difficult feelings and situations. There are a lot of great books out there that were designed to help babies and toddlers begin to distinguish between different emotions. Reading them and then talking about them together will certainly help! 
I would like to recommend two books that I have found very useful –and that I am personally very fond of:
I Am Happy: A Touch-and-Feel Book of Feelings by Steve Light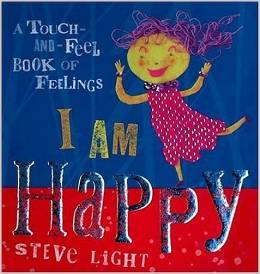 This is a great book for both babies and toddlers. It invites the reader to "touch" and "feel" different emotions by offering a variety of textures to touch. For example, the last page says "Every day I feel loved" and has a picture of a baby tucked in bed under a soft blanket. The softness of the blanket represents the emotion of love. Your little one will love this special hands-on experience!
When I Am/ Cuando Estoy by Gladys Rosa-Mendoza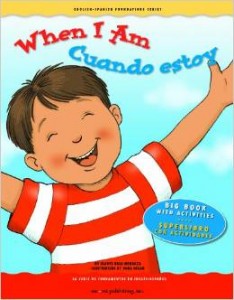 This is another great addition to your toddler's collection. The text is in both English and Spanish, so you can read both or choose one. The pages capture what a child could do when they experience different emotions like happiness, sadness, anger, worry, fear, and surprise. Your child will easily relate to the common situations that are presented on the pages.
Do you have other book recommendations that explore and teach emotional intelligence? Please share them by writing a comment below! Keep coming back for more information about the perks of reading to your child and more suitable book suggestions!