Nature Walk
Nature walks are the perfect fall activity! Every tiny friend needs to get those wiggles out from time to time and it is a wonderful way to practice mindfulness. As you wander around your neighborhood, a park, or a trail, chat about all of the things that you may see (leaves, a deer, sticks, rocks, a creek, a squirrel, etc.). If you have time to plan ahead of it, you can even make a list of potential things you might encounter and make a scavenger hunt out of the walk. If you don't have time to prep, 'I spy' is just as speechy ("I spy something falling", "I spy something green", "I spy an animal with wings", etc.)
Have an Apple Day
Apples and fall just seem to go together! I love having apple days with little ones once fall rolls around. Whether you go apple picking or to the market, you can talk about all of the different types of apples you find (red, green, yellow, hard, bruised, small, stem less, etc.) Once you get back home you will have the perfect bounty to bake with! Baking is a go-to speechy activity because there are directions to follow and a rich plethora of vocabulary words (pour, mix, scoop, stir, bake, blend, etc.). Go big with an apple pie or start small with applesauce –either way you will boost a ton of language, have fun, and enjoy a yummy treat with your kid!
Check In on Your Senses
A new season is sure to bring on new sensory experiences! Take some time to discuss all of the new things that we may see, smell, hear, taste, and feel in the fall. You could make a fun chart with an eye, a nose, an ear, a mouth, and a hand and then fill in your child's answers. You could even make it more of a sensory experience by using props! You could use cinnamon, a scarf, a pumpkin, or hot cocoa. You can also turn it into a treasure hunt around your house or backyard by 'finding' all of your tiny friend's answers.
Make A Fall Book
Get crafty together and make a book all about fall! You can put items into your book that you found on your nature walk, print pictures to color them, or draw your own creations. I like to use the Brown Bear format for my fall books. It would sound like, "Fall Fall what do you see? I see an orange pumpkin looking at me. Orange pumpkin orange pumpkin what do you see? I see a brown leaf looking at me". You can fill in the blanks with your child's answers or provide your own and have them pick the color, depending on their level.
Grab-Bag
Grab-bag is one of my favorite activities for any day! You simply place 5-10 items in a bag and have the little ones close their eyes and reach their hand inside. They have to feel the item in order to try and guess what it is. It helps if they think out loud so that you can hear the language that they are using and provide clues if needed. For a fall grab-bag, place fall themed items inside so that your child has a strong context of what they could potentially feel.
---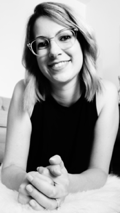 Molly Dresner is a Speech Language Pathologist based in New York City.
She recently authored The Speech Teacher's Handbook, an engaging parent guide that includes practical and easy-to-follow tips and activities to help you help your little one!
You can find her on Instagram @thespeechteacher where she posts daily pops of knowledge and connect with her on her site as well as Facebook.